What teachers REALLY want for an end of term present
It's often wine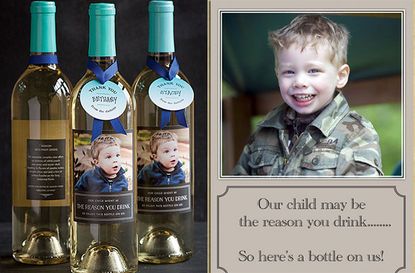 The decision over what to get your child's teacher at the end of the school year can be difficult. Do you buy something? Do you make something? You can't buy them a scented candle for the third year in a row.
But don't worry, there's still time to find the perfect gift. To make it that little bit easier, here's our guide to all the presents your teacher will really want this July.
1. The presents you can actually buy
Teachers like nice things just as much as anyone else, and there are some lovely gifts you can buy to show just how much you've appreciated their hard work.
Chocolate....anything with chocolate
Image: Not on the high street (opens in new tab)
A thank you message from a pupil is always nicer when you can eat it.
Something from the whole class
Image: Etsy (opens in new tab) A present from the entire class is a really nice gesture and something that will last a long time. This fingerprint tree also lets your child quite literally leave their mark on the past year.
2. One for the wine lovers
The end of the summer term marks the end of long year. And the end of a long year requires just one thing. Wine. Teachers are probably too polite to ask for six different types of wine, but it's what they're really thinking.
These very honest wine labels
Image: Amazon (opens in new tab)
Ok, so your child isn't perfect all of the time. Who's is? But you can still thank teachers for helping your child even when they're not on their best behaviour. These wine labels are hilariously accurate.
The glass that knows exactly how much wine is needed.
Image: Etsy (opens in new tab) Spending five days a week teaching a class of children can take it's toll. But wine is the perfect coping mechanism. This glass understands perfectly. (opens in new tab)
3. The presents you can make
Any presents that are home-made show effort. A handmade present can be a cheaper alternative and show just how much you've appreciated their hard work.
A stationery bouquet
Image: Pinterest (opens in new tab) Stationery shopping is one of a teacher's greatest joys. Do you know how many pens go missing, or felt tips lids are lost during the year. They might not be teaching again until September, but you can set them up for the new year with all these essentials.
A classroom wreath
Image: Pinterest (opens in new tab)A teacher's classroom is their castle. This adorable wreath made of rulers would work as a gorgeous decoration and really brighten up the classroom. (opens in new tab)
A decorated plant-pot
Image: Etsy (opens in new tab)
Plants grow. Teachers help children grow. A decorated plant-pot doesn't take long to make and makes a heartfelt gift that's perfect for summer. It would also fit perfectly on a teacher's desk when you go back in September.
4. Basically anything edible
Food never fails. Especially for teachers' presents. Have a look at our homemade food gift ideas (opens in new tab) for inspiration to make the perfect gifts you can eat.
5. And of course, there are the presents that money can't buy
Some of the things teachers want the most don't even need you to open your purse.
Your child's silence
It's impossible for children to be angels 100% of the time. But one of the best presents is the hope that come September their class will be beautifully behaved, quiet and always hand in their homework on time. Well, everyone can dream.
Summer holidays
The summer holidays. Possibly the present a teacher wants most of all and it's completely free. However, it's best to avoid telling teachers they have it easy because of their long holidays. Never say that.
A simple thank you note
Sometimes the smalles gestures can make the biggest difference. Teachers dedicate a LOT of time to helping their pupils and it's nice to be told it was all worthwhile. Even just a simple thank you note saying how grateful you are can help make those late nights marking and lesson planning seem worth it.
Charlotte Whistlecroft is a former Family writer at GoodTo. She obtained a BA in Theology and Theological Studies at Durham University, going on to study a masters at City University London in 2016. Since leaving GoodTo she has worked as a Social Video Researcher at Mail Online and is now Assistant Producer at BBC Sport.