The body confidence lessons I want my children to know
In our BISS Post-Baby Body series we're exploring how real mums feel about their bodies since having children. Lizzie Rule, blogger at The Identity Thieves, shares how she'll talk to her children about their bodies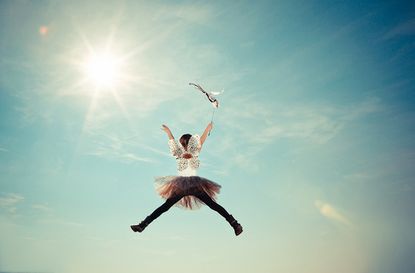 In our BISS Post-Baby Body series
we're exploring how real mums feel about their bodies since having children. Lizzie Rule, blogger at The Identity Thieves (opens in new tab)
, shares how she'll talk to her children about their bodies
'Girls as young as five years old are worried about the way they look and their size.' *
Upsetting, isn't it - that children this age are susceptible to messages about body image? It's hardly surprising though. We are bombarded with images of apparent perfection and it has become ingrained and 'normalised'. So how should we help our children navigate this? How do we empower them to cut through the crap and love their bodies?
I've recently taken up running. It's not something that comes naturally to me and I can't say I love it when I'm actually doing the running bit, but I love the worn out (and slightly smug) feeling I get afterwards.
The other day, with every step I ran, I thought 'Ugh! I hate this! My legs ache! My lungs hurt! I can't bloody wait to get home!' At that point, I had a moment of realisation. I could carry on with a negative attitude and hate every second, or I could try thinking 'I'm really pushing myself. My legs are working hard and my heart is pumping, helping to keep me going. I am doing this to keep healthy and fit.' This is what I want my children to really understand.
Body confidence is not about a thigh gap (I think I had one when I was eighteen, for about two weeks), or a flat stomach or a Kardashian bum. It's about learning what your body can do, what limits you can push, how strong you can be. Our bodies really are amazing and, as Paralympians prove time and again, even when the odds are stacked against us, we can achieve incredible things.
I want my children to understand how to nourish their bodies, but not to be obsessive over it; to understand that they will be showered with images of "ideal bodies" but know that they're almost totally unattainable; to make sport or fitness part of their everyday lives. So we must lead by example. I like my kids seeing me head off for a run because it helps normalise exercise.
I can say, hand on heart, that when I know I've been taking care of my body with the right foods and exercise, I look in the mirror and feel good. I am far less likely to start picking out my imperfections. I will tell my children that body and mind are so in tune with one another, it's essential to be kind to them both in order to feel 'body confident'.
With the Rio Olympics in the headlines this year, it's the perfect time to talk about great athletes and what their bodies can achieve when they set their mind to it. I hope they will grow up with less focus on weight, cellulite and wobbles and more on strength, stamina and an enjoyment of healthy living.
* Lohmann et al, British Journal of Developmental Psychology, 2005
BISS is GoodtoKnow's guest blogging platform that gives a voice to real mums (and dads!). Head to our BISS channel for your chance to write for GoodtoKnow and to read all the brilliant blogs from real parents just like you.
Trusted, informative, and empathetic – GoodTo is the ultimate online destination for mums. Established in 2007, our 15-year-strong archive of content includes more than 18,000 articles, 1,500 how-to videos, and 7,000 recipes.