The Queen at 90: Everything you need to know about the Royal celebrations
Most importantly, the pubs are staying open late.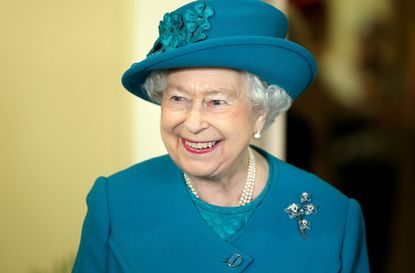 Queen Elizabeth II's 90th birthday falls on 21st April, and she also has an official celebration on the 11th June.
However, to mark such a landmark year in her life and reign, there will be events occuring throughout 2016 to celebrate.
Here's everything you need to know about the Queen's 90th birthday (yes, including those all-important pub opening hours...)
Commemorative coins
Image: Royal Mint
You could find yourself as the recipient of a free £5 coin to celebrate the Queen turning 90 - but only if you're turning the same age, on the same date (21st April). The commemorative coin was designed by artist and sculptor Christopher Hobbs, who says 'My design for Her Majesty's 90th birthday coin collection was inspired by the heraldic rose and the Queen's love of flowers.'
'The central 'EIIR' is surrounded by a classical wreath of celebration. I have tried to make the roses more natural than heraldic, each one different from the other.'
The coins will be given away to all pensioners celebrating their birthday on the same day as Her Majesty, but those who aren't lucky enough to share their special day with our monarch will have to fork out of their own on the Royal Mint Website. It's £13-£20 for the standard coin, although special editions, containing five ounces of 999 fine gold, can cost up to £7,500!
Our Queen at 90
Our Queen at 90, a TV special to commemorate the special occasion, was broadcast on Sunday 27th March at 8pm on ITV One. Snippets of the show have been shared on the British Monarchy and Kensington Palace social media accounts, including Duchess Kate talking about Her Majesty's relationship with her grandchildren, and Prince Charles recalling a joke with his mother about her age.
Other members of the family shared anecdotes ahead of the show's airing; Prince Harry admitted that he was intimidated about following in her impressive footsteps, saying, 'There is nowhere on this planet that I can think of, that she hasn't been in the last 90 years.
'She has been everywhere and that's sometimes quite hard, because you go to a place where she hasn't visited for maybe 20 years, maybe 15, and you just think to yourself, "how can I ever fulfil this huge expectation that comes with her and being a member of her family?"'
Countess Sophie of Wessex, meanwhile, explained the Queen's colourful fashion choices, adding 'when she turns up somewhere, the crowds are two, three, four, ten, 15 deep, and someone wants to be able to say they saw a bit of the Queen's hat as she went past,' said Sophie.
'She needs to stand out for people to be able to say 'I saw the Queen'.'
Clean For The Queen campaign
Kicking off with Clean for the Queen weekend at the beginning of March, the national campaign to clear the litter and tidy the streets was created to get Britain looking its best before the official celebrations begin in June.
The website for the campaign calls on local charities, volunteer services, businesses and schools to do their bit, stating 'When [Elizabeth] came to the throne litter was not the problem that it is today. Food packaging, plastic bottles, takeaway meals and cigarette butts have all contributed to a growing menace that affects our wildlife, streets, countryside and sense of pride. What better way could we show our gratitude to Her Majesty than to clean up our country?'
Events at Windsor Castle
Between 12th and 15th May, four events will be held inside the grounds of Windsor Castle, with different members of the Royal Family due to attend each night. The Queen herself will only attend the last event, which will also be broadcast live on television.
These events are designed to reflect the Queen's well-documented love of equestrian life, and will feature more than 1,200 participants and 550 horses. Opera singer Katherine Jenkins will also be performing, along with numerous other musicians, dancers, actors, actresses and artists from around the world (a nod to the Queen's 'dedication to the Commonwealth').
Service of Thanksgiving
On Friday 10th June, The Queen and The Duke of Edinburgh will attend a National Service of Thanksgiving at St. Paul's Cathedral - the venue where their son Charles married his first wife Diana in July 1981.
The Queen at St. Pauls Cathedral in March 2015
The Queen's Birthday Parade (Trooping The Colour)
Trooping The Colour is an annual tradition, but this year's show looks set to be the biggest and best yet. Taking place on 11th June on Horse Guards' Parade in London, the Queen's Birthday Parade will see over 1,400 officers and men on parade with two hundred horses and four hundred musicians from ten bands and drum corps.
It is during this event that Her Majesty then joins other members of the Royal Family on the palace balcony for a fly-past by the Royal Air Force, much to the delight of the revellers gathered below. We all remember the adorable pictures of Prince George watching the planes last year - - we wonder if Princess Charlotte will be joining them on the balcony this year?
The Royal Family enjoying June 2015's Trooping the Colour displays
The Patron's Lunch
A giant street party will be held in The Mall in London for 10,000 guests on Saturday 12th June as part of the celebrations.
Many of the attendants will be from charities supported by the Royal Family, although the general public had a chance to win tickets in a ballot system, at a cost of £150. There will also be live sites situated in Green Park and St James's Park.
Guests at The Patron's Lunch will be treated to a food hamper from Marks and Spencer, containing Scottish smoked salmon mousse, a Pembrokeshire chicken salad and a mini piccalilli pork pie, as well as a selection of sweet treats. The drink options will be be a 250ml can of Pimm's, a 500ml bottle of M&S Scottish Spring Water and a bottle of apple juice.
The Duke of Edinburgh, Prince William and Prince Harry will all be in attendance - now, what does one have to do to get a seat with a Royal view?
Pub opening hours
On 23rd March, David Cameron announced that pub hours would be extended be in England and Wales on 10th and 11th June to mark the Queen's 90th birthday - a similar policy to the one put in place for the Royal Wedding in 2011, and the Queen's Diamond Jubilee in 2012. Establishments will be allowed to remain open until 1am so that members of the public can toast their monarch in style. Cheers, your Majesty!
Trusted, informative, and empathetic – GoodTo is the ultimate online destination for mums. Established in 2007, our 15-year-strong archive of content includes more than 18,000 articles, 1,500 how-to videos, and 7,000 recipes.