We earn a commission for products purchased through some links in this article.
Image: Facebook/Deeanna Thomas
Christian McPhilamy is no ordinary eight year old.
In fact, what he did, without any prompting or encouragement whatsoever, will bring a tear to your eye.
Because little Christian, from Melbourne, Florida, took it upon himself to grow his hair long with the aim to cut it all off and donate it to a charity that makes wigs for child cancer victims.
Completely heartwarming, and that's before you discover that he did all this in the face of bullying from children and adults along the way…
Image: Facebook/Deeanna Thomas
Before and after: Eight-year-old Christian decided to grow and then cut his hair for child cancer charity Children With Hair Loss
After watching an advert for St Jude Children's Research Hospital when he was just six years old, Christian, who attends Ocean Breeze Elementary School in Florida, decided to take action. And his mother, Deeanna Thomas, couldn't be more proud!
She posted photos of her son's achievement to her Facebook page with the caption:
'2 years ago my son saw a St. Jude commercial that changed his life forever. He chose to do his own research and find a way to help. After 2 years of growing his hair, Christian has reached his goal of donating over 10 inches in 4 ponytails. He has chosen to donate to the "Children with hair loss" foundation.
'He has endured an awful lot of criticism, and yes even bullying, throughout this time. From his peers calling him a girl to even coaches and family friends telling him he should cut it or offering him money to. Even still, he has never once, strayed from his goal and always took the time to educate others on why he made the choice to grow his hair. I am one proud mommy as always.'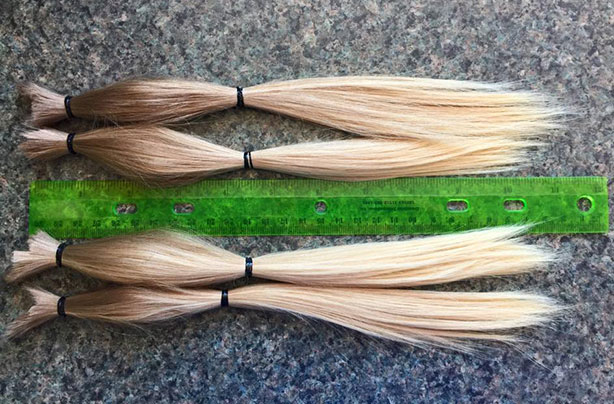 Image: Facebook/Deeanna Thomas
Christian donated an impressive 12 inches of hair!
Last month, Christian had his long hair parted into four sections before his parents snipped off his hair, which had grown to an impressive 12 inches long!
They then packaged the hair into plastic bags before sending them off to the charity, which is currently supporting more than 335 recipients aged two to 21 according to Florida Today.
Image: Facebook/Deeanna Thomas
Stepdad Scott takes to Christian's long locks with the trimmers!
His stepdad Scott Norris told them: 'I was blown away. I was just filled with joy and pride, and it was awesome.'
It's hard to believe that anyone could tease Christian for his decision, especially adults, but incredible to see that the inspirational eight year old couldn't be deterred. Well done Christian!