Cyber Monday baby deals 2022 from iCandy, Cybex, Elvie, and more
The best Cyber Monday baby deals selected by our Consumer Editor and constantly updated, including prams, pushchairs, car seats, baby monitors, breast pumps, and more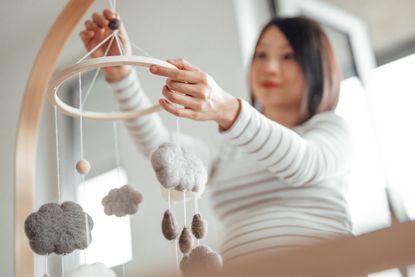 (Image credit: Future)
Black Friday has been and gone for another year but as Cyber Monday rolls into focus (28th November) there are still plenty of baby deals to take advantage of - and we're here to share them with you.
If you're wondering which is better, Black Friday or Cyber Monday (opens in new tab), the answer is they're pretty much the same thing, at least when it comes to sales on baby equipment and pregnancy/parenting products. Cyber Monday is the Monday after Black Friday. (This year that's tomorrow; Monday 28th November.) Cyber Monday is traditionally the 'online version' of Black Friday; sales were mainly in-store only on the Friday after Thanksgiving, followed by online sales kicking off on Monday. These days Black Friday is a whole weekend of discounts and deals with some extra price drops going live on Cyber Monday.
This year many brands and retailers started their Black Friday and Cyber Monday sales early, with Black Friday discounts live from mid-November. Items that have been particularly popular this year include those that help combat the rising cost of living such as air fryers (opens in new tab), dehumidifiers (opens in new tab), and microwaves (opens in new tab). Sales will be drawing to a close over the next few days but if you're expecting a baby or have little ones at home, Cyber Monday is your final chance to make some big savings on expensive baby gear including prams, pushchairs, car seats, baby monitors, feeding and bathing equipment and more.
Our editorial team, including our Consumer Editor (opens in new tab) and Family Editor have been working all weekend to bring you the best Black Friday and Cyber Monday baby deals. We're adding new deals as we find them and highlighting the best prices on baby products - particularly ones that we've tried out, reviewed, and highly recommend.
Take a look at our Toys Live Blog to find the best Cyber Monday deals on toys and games too.
These are the retailers that have some of the best Cyber Monday baby deals now:
Where to find the best Cyber Monday baby deals 2022
Best Cyber Monday baby deals 2022
Below, we've listed all the best Cyber Monday deals we've found for baby gear, categorised by product type, so you can head straight to the relevant section. Or browse through everything!
CYBER MONDAY PRAM DEALS
Prams aren't cheap but Cyber Monday is a brilliant opportunity to pick up a top-of-the-range pram for a budget price - you can literally save hundreds of pounds if you know where to look. (Which is why we're here.)
There's a lot to think about when choosing a pram, from how much it weighs (consider lifting it in and out of the car boot or carrying it up some steps) to how easy it easy to fold and unfold. If you're unsure, read our guide to the best prams (opens in new tab), all of which we've put to the test, to work out which one is right for you.
Suitable from birth, these are the best Cyber Monday pram deals live now.
CYBER MONDAY PUSHCHAIR DEALS
Prams for newborns and younger babies have carrycots or fully-reclinable seats that allow little ones to lie completely flat which is essential for the healthy development of the spine and lungs. Pushchairs and strollers with upright seats are better suited to older babies and inquisitive toddlers who like to sit up and the world around them. (Some prams have both carrycot attachments and upright seats so think carefully about what's best for your baby.) Pushchairs also tend to be lighter and nippier than lie-flat prams so they're a practical choice for whizzing around with a heavy, growing toddler. For travel use, look for a lightweight buggy that weighs 7kg or less. Read our guide to the best pushchair (opens in new tab) to help you choose the right set of wheels. These Cyber Monday pushchair deals are perfect for growing toddlers who no longer need lie-flat seats or carrycots but still like to hitch a ride in the buggy on a regular basis.
CYBER MONDAY BABY MONITOR DEALS
Baby monitors vary greatly in price and have many different features, from basic audio models to ones that stream live video footage and even monitor your baby's movement. Some high-tech baby monitors rely on WiFi connectivity and are compatible with smartphones and others can even be worn by your baby. Think about whether you want a techy gadget or a basic model, if you'd prefer it to run on batteries (you'll need to remember to recharge it) or mains power, and what kind of features you're willing to be pay more for, such as motion sensors, cry alert functionality and two-way talk back so you can soothe your baby without entering the room.
Read our guide to the best baby monitors to help you decide which Cyber Monday baby monitor deal is the best for you.
CYBER MONDAY CRIB / MOSES BASKET DEALS
A cot is a very important purchase. Not only is it expensive but it can make a significant difference in how much sleep you and your baby get. Check measurements to make sure it'll fit in your bedroom before you buy as your baby should sleep in the same room as you for the first six months. Next, think about how long you plan to use it - a cotbed costs more but saves you money as it turns into your baby's first toddler bed. Check out our guide to the best Moses baskets (opens in new tab), travel cots (opens in new tab) and cotbeds (opens in new tab) for more guidance.
CYBER MONDAY CAR SEAT DEALS
Car seats can seem really complicated. The key thing to consider is your baby's weight because car seats are classified into 'groups' based on the upper weight limit of each car seat. It's important not to move your baby on to the next category too soon. Think about whether you want to lift the seat out of the car and attach to your pram (not all car seats can do this) to make it easy to move your baby between the house and the buggy without unbuckling them from the car seat each time. Read our guide to the best car seats to help you decide which type is right for your child.