Things to do with kids: 72 cheap activities to keep children entertained
Things to do with kids to keep them engaged and entertained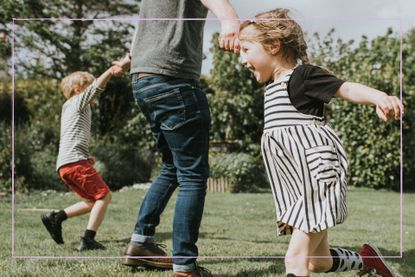 (Image credit: Getty Images)
'Things to do with kids' is a phrase many parents have searched for over the years. Free things, easy things, educational things... there are so many things to do with kids.
And with the school summer holidays and half terms, many parents are after inspiration to help keep kids engaged - be that a fun family day out in London or maybe some inspiring indoor activities for kids when the weather turns (and it's that time of year where they're asking all the questions like, who is Guy Fawkes?).
Heidi Scrimgeour, Deputy Editor at Goodto.com and mum-of-three tells us; "To keep kids successfully entertained is the Holy Grail of parenting, especially during school holidays. Anything that keeps them engaged and maybe teaches along the way is a winner."
We've compiled a list of fabulous things to do with kids, including everything from crafts to games and activities to will help develop key skills too. And, bonus, most of these ideas are suitable for all ages, with some adult supervision required.
Things to do with kids
Mum-of-two and author of Five Minute Mum, Daisy Upton tells us her top tip; "Let the kids come to you." It's that simple and that tricky all in one. She adds; "You set up the activity while they are busy or napping, and then when ready you start to play with it yourself. Then, when they show interest you casually say 'Want to try it too?' It works every time."
Bestselling author and social media superstar, Daisy Upton, knows all abut activities. Daisy has two children in primary school, and used to be a teaching assistant, so she knows her stuff.
1. Create your own stickers
Everyone loves stickers - Learn how to make your own stickers using materials at home. It's a super easy activity and kids will be wowed as they turn their very own drawings into stickers to cover their bedroom and bits with.
Ages: 4+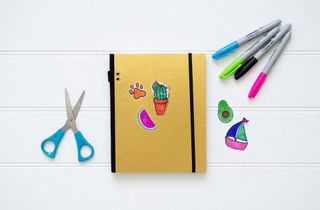 2. Go for a bike ride
Both adults and kids' bikes can be bought for good prices on sites like GumTree and ebay, but be sure to check they're selling in your local area.
Then all you have to do is take your new ride to the park (for the little ones) or the open road (for older kids).
Ages: 4+
3. Take a museum tour
Free museum tours are perfect to keep the kids engaged, educate them a little on new subjects and tire them out enough for bedtime all wrapped up in one activity. Take a look at our article on Free museums . We cover all museums across the UK.
They include Buckingham Palace, Edinburgh Castle and the Tower of London, along with those in the USA and Europe.
4. Join in with a Joe Wicks workout
That's right, Joe Wicks is back is still a firm favourite with kids. Perfect for adults and children, enjoy a bit of bonding and via a HIIT workout. Discover where to watch Joe Wicks workouts and get stuck in with the kids this week.
Ages: 4+
5. Interview a family member
As things to do with kids go this is a great idea! Kids are curious, encourage this curiosity and help them set up an interview with a family member, challenge them to find out something you never knew. Maybe call it 'pretend journalists' or 'pretend genealogists.
Questions to ask;
Where did you grow up?
Do you share a name with someone else in the family?
Did you have a nickname growing up?
When and where were you born?
Where was your first house?
What other houses did you live in?
Age: 9+
6. Make your own puzzle
If you've got through all the puzzles follow this great WikiHow tutorial explains how to turn a family photo, a photo of your favourite pet, television show or characters from your favourite book into a DIY puzzle. It's a great way to get the kids crafting and the step-by-step guide makes it a super simple activity.
Ages: 5+ (with adult supervision)
7. Create your own music video
TikTok exploded onto the scene in 2020 for the first time and now, everyone is a star with lip-syncing videos going viral every day. But you don't have to join TikTok to have your own fun with lip-syncing, dancing, and miming.
Create your own music video and have fun with the whole family, simply using an iPhone. Get the kids to design the video, including what the lighting will be, what song is going to be sung, what everyone will wear, and what the set will look like.
Then use your iPhone, propped up on a surface, to record the video. Send to family and friends to give them a laugh.
8. Enjoy a virtual trip to the Aquarium
While a trip to the aquarium might rack up financially, the wonders of the deep blue sea are just a few clicks away thanks to the cameras installed in various tanks around the world.
The videos are either live or pre-recorded and uploaded by the aquariums themselves, so they're great quality. Our favourite is the Monterey Bay Aquarium, as they have live cams for their fish, sharks, jellyfish and more.
Ages: 3+
9. Host a family Come Dine With Me
If you've already got the cooking down and the little ones are set to feature on The Great British Bake Off any day now, why not host your very own Come Dine with Me?
Each week, one member of the family comes up with a menu and cooks a starter, main and dessert.
It's a great way to get everyone cooking in the kitchen. Older children or adults can help little ones with the choosing of the menu and cooking (beans on toast anyone?).
Use our recipe finder to discover some of the easy, delicious and quick recipes that kids of any age can make at home - from starters to desserts.
Ages: 5+
10. Take a virtual trip to the zoo
As things to do with kids go this is a great idea! Save on pennies with the zoos who also have live streams of the animals.
Our favourite is the famous San Diego Zoo live cams. They broadcast the daily lives of some of the most fascinating animals around, such as hippos, penguins, polar bears, tigers and more.
So whatever the little ones' favourite animals are, they can get up close and personal in a way they would otherwise never have been able to. You could even set up a bingo game and the can stamp the animals they see.
Ages: 3+
11. Build an indoor den with pillows
With the current cold weather, maybe a bike ride or a walk in the park isn't for you.
Stay inside this week and build a den from pillows and sofa cushions instead. It's as simple as it sounds and lets kids' creativity go wild as they arrange the living room or their bedroom into a den and create their very own playground.
By giving your kids boundaries (showing them what they can build with) and autonomy (leaving them to it) to build what they want you'll see creativity and engagement shoot up.
Ages: 4+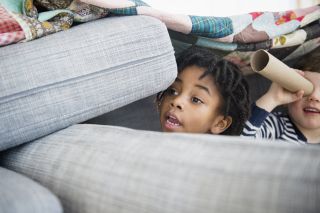 12. Set up a marble run
Do you have a big bag of marbles? Or a selection of all, lightweight balls like ping pong calls? Create your very own marble run with the kids.
All you need to do is get creative with some toilet roll tubes and other cardboard to create an obstacle course for your marbles. See how long and complex you can make it, without stopping the track of the ball rolling.
Ages: 5+
13. Create pictures with melted crayons
This is definitely one for anyone whose craft drawer is overflowing with broken, used-up, or otherwise useless crayons.
Remove any paper or plastic wrapping from the crayon. Then using a hairdryer, melt the crayons onto paper or cardboard and create your very own work of art.
Ages: 7+
14. Learn how to code
As things to do with kids go this is a great idea! Any child that loves working away on an tablet or laptop might be interested in learning how to code. While it might be one for slightly older kids, even younger ones can join in with some of the fun activities that Learning Resources has put together.
Complete with fun characters to help them through the programme, it's a low-stress activity that keeps little ones' minds occupied - at least for a few hours.
Ages: 7+
15. Make a stop motion video
Stop motion videos are so much fun to make, so easy and loads of fun!
This video by Chloe Meyers is a great place to start. Once you've got all the basics covered you can create your very own stop motion videos using whatever you like. Lego and Playmobil figures work really well, but you could also make your own from scratch using playdough.
Ages: 8+
16. Create colourful ice sculptures from your freezer
All you need to make your very own colourful ice sculptures is a range of bowls, muffin tins or containers in different shapes and sizes, some food colouring and access to water and a freezer.
Add the food colouring and water into the containers (why not try loads of different colours in all the different containers to create a frozen rainbow?), then pop it in the fridge. Once frozen, take the containers out of the fridge and use some warm water to pop the ice from the container.
Stack the different shapes on top of each other to create your very own masterpiece! If they don't stick together naturally, use a little warm water to melt the ice pieces together.
Ages: 5+
17. Play a biscuit board game
Sounds fun right? Biscuit board games come straight from the Great British Bake Off and when pulled off well, they do exactly what they say on the tin.
It's a board game that you can eat. They're super fun to make because there's a designing process, a baking bit, and then importantly, a playing (and eating) bit. Just be sure to wash your hands before you dive in.
Ages: 6+
18. Get into painting
It may sound simple but painting is one of the best ways to keep kids busy - and it can be a great mindfulness activity for kids too.
While galleries and craft clubs at museums might be off the table for now, that doesn't mean that painting has to stop. There are loads of painting tutorials for kids online, so depending on their age, they can get stuck in with loads of exciting new painting techniques and ideas.
We love the tutorials by Gogh Box Art Crate - perfect for all ages!
Age: 7+
19. Make a play with a chatterbox (fortune teller)
In the spirit of thinking ahead, why not play around with a homemade fortune teller? Just like we all had in the playground! With a handy tutorial you and the little ones can create a fun chatterbox to try out with the family. Pick a number...open the flap...pick another number...find out your fortune - it's as simple as that.
Ages: 4+
20. Make bath bombs
Whether it's little ones splashing around in the colourful water, or adults taking a moment to relax with scented oils after a stressful day, a bath bomb is a winner in everyone's books. And they're so easy to make at home. So instead of splashing out on a fancy one, you can make one with some kitchen equipment and a few scented supplies.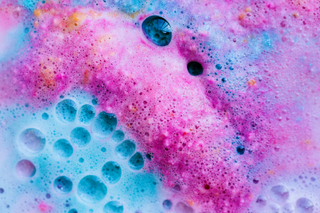 Find out how to make your own bath bomb for an afternoon of science experimenting and crafting fun with the kids.
Ages: 6+ (with parental supervision)
21. Visit a farm
Introduce your children to animals by taking them to a farm. Even if you live in a city, there are lots of city farms around the country, and many of them cost peanuts to get into. It's also a great opportunity to get up close to wildlife if your child's only previous contact has been with a cat or dog. Find your nearest free farm.
Age: 4+
22. Get stuck into a craft kit
Craft kits are the most affordable way to keep kids entertained for a whole afternoon. They can look after the garden's wildlife with a ladybird house-making kit for example, or make a fun decorative piece for their bedroom with this unicorn dream catcher kit from Baker Ross.
Whether they love painting, sticking, gluing, or building, there's something for everyone with so many out there to choose from. We've rounded up some of the other best buys in our selection of craft kits for kids.
Ages: 3+
23. Get crafty with toilet roll tubes
There's nothing more classic to do on a rainy afternoon than to make crafts out of toilet roll. Whether it's a new game made out of cardboard, a pen holder for the office, a new decoration for the kitchen...there are so many options.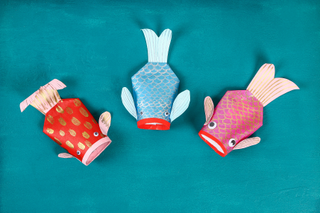 All you need to get started is a couple of empty toilet roll tubes, some paint and glue.
Ages: 3+
24. Get stuck into a PlayHooray activity sheet
While kids are sure to have homework and other tasks set by their school, breaking work up with play is vital to keeping minds focused. PlayHooray has printable activity sheets available for you to download with a whole host of fun games and craft projects, all set according to your child's age. Get them here.
Ages: 6+
25. Teach them cross-stitch
Cross stitch is enjoying a new lease of life and is a great way to get kids involved in arts and craft. You can get special kits designed for younger children, so they won't hurt themselves on the needles and the pattern will be easier to follow.
Age: 7+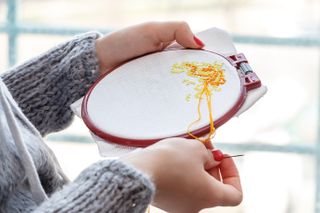 26. Mess around with doodling
Doodling isn't just for the back of notebooks. If you've got plenty of scrap paper lying around the house, doodling is one of the best creative uses for it. Get your kids out of their shells and put their ideas and thoughts down on paper with some fun afternoon doodling.
Stuck for inspiration? There are loads of videos on Youtube about how to get them to start thinking of ideas, like this one.
Age: 3+
27. Do a science experiment
If your child has an interest in science, nurture it. There are loads of really fun (and safe) science D.I.Y experiments you can do, with just the objects in your home and ingredients in your kitchen. But for some of them, it might be best to move it into the garden - otherwise, you'll be repainting the walls as well.
But science experiments like this Elephant's Toothpaste experiment promise minimum mess and are really fun.
Age: 9+ (with parental supervision)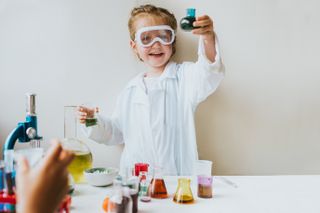 28. Get messy with play dough
28. Get messy with play dough
Almost a rite of passage, play dough is easy to make up and you can scent and colour it any way you fancy.
We've got a fool proof play dough recipe plus lots of fun makes to do with it.
Age: All ages love play dough, but perhaps just make sure they're at an age where they understand it's not the best thing to eat.
29. Bake something tasty in the kitchen
Cooking is one of the best things to do with kids, it teaches them so much no matter their age. There are loads of simple recipes you can try out with your children. If you're concerned about them getting things in and out of the oven, then why not try one of our no-bake cake recipes, which have to be chilled in the fridge. If they really love it, then why not challenge them to come up with