Kirstie's top 10 crafts for kids
We've teamed up with Kirstie Allsopp to bring you these fun and simple crafts for kids including a paper patchworking, a kitchen collage and more!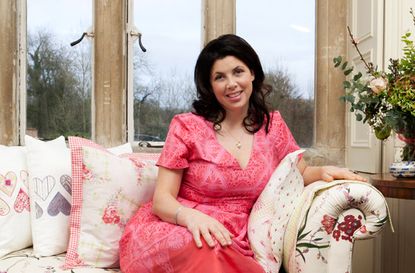 You don't need to be mega creative to get involved in some crafts with your kids - we've teamed up with Kirstie Allsopp and Persil small & mighty to bring you these 10 easy and fun craft ideas for kids.
1. Hand and foot prints
With canvases and washable poster paint from any art supplies shop you can have fun and make some stylish wall art. Set the canvases on the floor and get the children to make prints with their hands and feet. Use contrasting colours like green for hands and blue for feet.
2. Piggy bank
Tear up bits of newspaper and stick onto a blown up balloon using a mix of PVA glue and water. Add three or four layers and allow to dry. Add legs and a snout using sections of a empty egg carton. Paint your favourite colour and when completely dry, varnish using the same glue mix. Use a craft knife to make the slit at the top - help the kids with this part.
3. Making a herb garden
Fill a window box with fresh compost piercing holes in the bottom of the box for drainage first. Trowel through the compost then arrange 4 or 5 herbs from the garden or supermarket inside. Kids will love getting messy and have fun watering the herbs. You could also have fun growing your own fruit and vegetables.
4. Nature trail
Set your kids on a local nature trial to find as many different leaves as they can. Try and find leaves of all different shapes and colours. Your kids will have fun outdoors and have something to keep them busy when they come home. Use the leaves as stencils - they look just like mini trees - and coat with washable poster paint. Print onto large pieces of white paper to create a forest scene poster.
5. Paper patchworking
Choose an object you want to decorate - my favourites are plant pots as they make great gifts. Stick on contrasting squares of coloured paper with washable decoupage glue in a patchwork design then leave to dry.
6. Kitchen collage
From things in the kitchen cupboard you can make a fun collage. Different coloured and textured items like dried pasta, milk bottle tops, dried peas and beans are great. You can cut a piece of paper into the shape of a big corn of cob, or any other fruit or vegetable, and stick your chosen items on with PVA glue.
7. Smiley pizzas
Make individual pizzas for supper making smiley faces with different ingredients from the kitchen. A quick tip is to get ready made mini bases from the supermarket. Coat with tomato sauce and cheese. Then, make the faces with pieces of cut up vegetables like red pepper mouths and button mushroom noses. Try making your own smiley pizzas with our easy to follow recipe.
8. Cereal box bookmarks
Flatten out an empty cereal boxes and cut into 2x6" strips. Trim the corners into round edges. Punch holes in the top of each and thread with a matching ribbon to create colourful bookmarks.
9. Bread making
Show your kids the joy of baking and fun of kneading with my flatbread recipe. Mix flour, yeast and pinch of salt together. Add oil and water and then knead into a dough. Roll out then cut into fun shapes before baking. Try making your own bread with our easy to follow recipe.
10. Ball in cup game
Clean the cap from an empty laundry detergent bottle. Find a lightweight ball that fits inside. Cut an arm's-length piece of string and glue one end to the ball and the other to the cap using PVA glue. Leave to dry overnight. To play the game, see who can catch the ball the most times in a row.
Trusted, informative, and empathetic – GoodTo is the ultimate online destination for mums. Established in 2007, our 15-year-strong archive of content includes more than 18,000 articles, 1,500 how-to videos, and 7,000 recipes.