Skeleton mouth make-up tutorial
Forgo the mask and create your own spooky skeleton style with this easy, step-by-step Halloween make-up tutorial.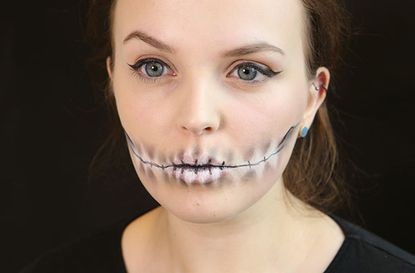 Forget the usual plastic mask from the supermarket - this sophisticated skeleton mouth look can be created with just a few simple items from your usual make-up bag.
This easy Halloween make-up tutorial will enable you to unleash your inner skeleton (metaphorically, of course) in under five minutes, giving you plenty of time to get back to scaring the life out of the trick-or-treaters at the door.
It might look advanced, but trust us, even the most novice of make-up artists can master this technique!
You will need...
A chunky white eyeliner pencil
Matte black eyeshadow
Black gel eyeliner with a brush
Two small, soft make-up brushes, for blending
How to create skeleton mouth Halloween make-up
Start by applying your normal face of make-up, if you wish - we've applied a neutral base of foundation and concealer and some winged eyeliner
Use the white eyeliner pencil to create square shapes across your mouth, and then extending across your cheeks
Use a soft make-up brush to blend points on the top and bottom of each square to form the teeth
Hollow out the space in between the tooth shapes with a brush of black eyeshadow
Apply lines of gel eyeliner to divide the teeth, and then add one big line across the entire smile
Use the eyeliner to darken the inner lips
Add contour lines to each cheek, above the smile
Hollow these with a brush of black eyeshadow, as you did with the teeth
And you're done!
Tip: Add large black rings around the eyes and extend the cheek hollows for a more complete skeleton face.
Have you recreated our skeleton mouth make-up tutorial? Leave us a picture of your work in the comments below!
Products used in this video: NYX Jumbo Eye Pencil in White, GOSH Extreme Liquid Gel Eyeliner, Revolution Iconic Pro 1 Eyeshadow Palette, Real Techniques Starter Set eye brushes
Watch our bleeding eye tutorial