Halloween make-up: Stitches make-up tutorial
This gruesome stitches make-up tutorial can be complete in less than 60 seconds, but makes a seriously sinister addition to your Halloween look!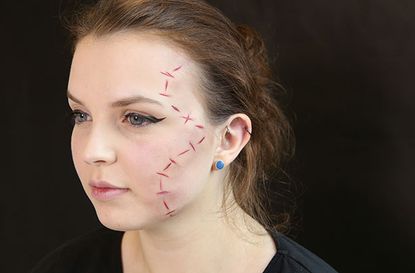 This gruesome stitches Halloween make-up tutorial can be complete in less than 60 seconds, but makes a seriously sinister addition to your Halloween look.
The simple stitch design can be used to complete a classic costume, like a Bride of Frankenstein or zombie look, or as a standalone feature. Whether you're hitting a Halloween party or just handing out sweets to trick-or-treaters at the door, it's sure to be a horror-inspired hit!
You will need...
A nude eyeliner pencil
Grey or black eyeshadow
Red eye or lipliner
A small, soft make-up brush, for blending
How to create stitches Halloween make-up
Start by applying your normal face of make-up, if you wish - we've applied a neutral base of foundation and concealer and some winged eyeliner
Draw a template for the stitches using the nude eyeliner. We've chosen to apply ours across the side of the face, but you can replicate the technique on any other areas of the face or body, and it'll look just as creepy!
Use a soft make-up brush to apply a light layer of the black or grey eyeshadow. This will emulate 'bruising' and make your scar appear more risen
Use the red eye or lip liner to define the stiches and finish the look
If you wish, you can apply setting spray to keep the look in place all night
And you're finished! Hey, we told you they were simple...
Tip: Make your Halloween stitches make-up even more gory by adding a few drops of red lip lacquer - it'll glisten realistically, but last much longer than fake blood.
Have you recreated our stitches Halloween make-up tutorial? Leave us a picture of your work in the comments below!
Products used in this video: GOSH black gel eyeliner, Revolution Iconic Pro 1 Eyeshadow Palette, Real Techniques Starter Set eye brushes
Anna Bailey is the editor of GoodTo. She joined the team in June 2018 but has been a lifestyle writer and online editor for more than 14 years. Anna graduated from Bournemouth University in 2004 with a degree in Multimedia Journalism and went on to gain her NCTJ and NCE journalism qualifications. She began her career in local journalism, working as a reporter for the Basingstoke Gazette in Hampshire. As Lifestyle Editor for ITV.com she managed the websites for the broadcaster's best-loved shows including This Morning, Loose Women, Coronation Street, Emmerdale, Coleen's Real Women, and Britain's Best Dish. Before joining Goodto.com she was also a Features Editor at MSN UK and Digital Lifestyle Editor for the broadcaster UKTV. She's also contributed to The Mirror, The Sun, LoveFood, LoveExploring, and TBSeen.