'THIS IS BULLYING' Binky accuses JP of bullying over his latest Instagram picture of her
JP's latest 'funny' picture of Binky may have gone a little too far – as the mum-of-one has accused him of bullying her!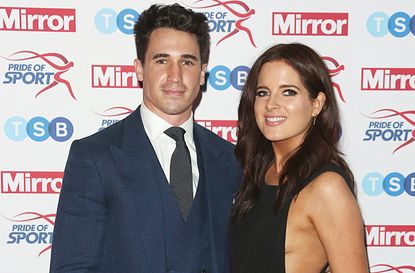 GoodTo newsletter
Sign up to the GoodTo Newsletter. You can unsubscribe at any time. For more information about how to do this, and how we hold your data, please see our privacy policy
Thank you for signing up to . You will receive a verification email shortly.
There was a problem. Please refresh the page and try again.
Binky Felstead and Joshua Patterson, also known as JP, are known for their fun and light-hearted approach to life and parenting as mum and dad to their baby India. However, JP's latest 'funny' picture of Binky may have gone a little too far – as the mum-of-one has accused him of bullying her!
JP often posts hilarious pictures on his Instagram account. Recently, he had his followers in hysterics after posting a snap Binky had taken of their daughter India after she was sick down the side of JP's face (opens in new tab).
[instagram]
In his most recent Instagram post featuring Binky, JP uploaded a photo of one of Binky's school pictures as a child – and it's safe to say the Made In Chelsea reality TV star has undergone quite a transformation since then!
Posting the photo with the caption 'Guess who???' fans were quick to share their shock on seeing the photo for the first time.
[instagram]
'It can't be her can it?!' said one incredulous fan of the couple, while another added reassuringly, 'No way! It's ok binks you've turned into a swan.'
'Oh Binky, you look like Adrian Mole!' commented one of JP's stunned followers. 'Though look, everyone looked like that back then' they added.
Binky's co-star on Made In Chelsea, Lucy Watson, simply commented on the photo saying 'OMG'.
One person who didn't seem to find the post quite so funny was Binky herself, who commented on the picture on Instagram in capital letters 'THIS IS BULLYING'.
While we don't know if Binky has forgiven JP for sharing the photo from her childhood with his 449,000 followers online yet, the TV star did share a throwback photo of when the couple first announced they were expecting a baby together (opens in new tab) last year, so hopefully she saw the funny side!
Binky, whose real name is Alexandra Felstead, appeared in the reality TV show Made In Chelsea since it first aired in 9th May 2011. She announced her pregnancy whilst appearing on the show, however she and JP launched their own spin-off show, Born In Chelsea, to document their first weeks as parents with baby India.