Phillip Schofield and Holly Willoughby to welcome a new This Morning puppy
But it's goodbye to Luna...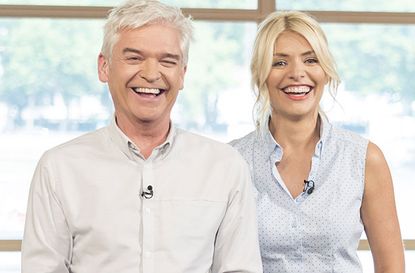 This Morning's Phillip Schofield and Holly Willoughby are one of TV's best known - and best loved duos.
But the pair will have to make a little extra room on the sofa when they return to the daytime TV show on 4th September after a summer break, as they're set to welcome an extra cast member, in the form of an adorable new puppy.
The news of the fluffy new addition to the This Morning team was announced on an advert during recent episode of the show, with a video montage of dogs from years gone by, and confirmation that there'd be another pup joining the gang.
'First there was Clover, then there was Luna – and we can now reveal, there's a brand new pup to greet Holly and Phil when they return on Monday!' the voiceover explained.
The duo have been joined by an array of furry friends on-screen in the past
It's not yet revealed what the pooch's name is, or whether they're a boy or a girl, but they'll follow in the pawprints of the series' most recent dog, trainee guide dog Luna, who they said goodbye to back in July.
'It's a bit of a sad day for all of us as we're going to bid a sad farewell to Luna,' Phillip said on air at the time of her departure. 'She's about to start her life as a fully-fledged guide dog. Actually not specifically that, she's going into her next set of training. Which quite frankly I think she probably needs' - a point which Luna promptly proved by refusing to sit, despite being asked several times.
'You've been a beautifully amazing dog and I've loved watching you grow,' Holly agreed, talking directly to the white labradoodle.
Fans were thrilled to hear that another four-legged friend would be added to the This Morning family, with one tweeting: 'Omg can't wait to see the new #ThisMorning puppy 🐶😍'