We earn a commission for products purchased through some links in this article.
Actor Tom Hardy and his wife Charlotte Riley have welcomed their first child together.
The 38-year-old, who has starred in blockbusters including The Dark Knight Rises, Mad Max: Fury Road and Inception, has yet to release information about the new child's name or gender.
He is already dad to Louis, his seven-year-old son from his previous relationship with ex-girlfriend Rachel Speed.
The notoriously private couple kept the news of the pregnancy under wraps for several months, only revealing the news during a recent red carpet appearance at the premiere for Tom's film Legend.
Tom and his pregnant wife Charlotte on the red carpet in September 2015
Charlotte appeared at the event wearing a tight black maxi dress over her growing bump, thereby visually confirming the announcement.
In a previous interview, Tom revealed that becoming a father the first time around had helped him to beat a battle with addiction – something which he dealt with after finding success at a very early age.
'I had no idea how to handle the industry, to interact with producers, executive producers, studios… I was 24 – punching above my weight,' he told the Metro.
'And it's taken being someone's dad, being divorced, going to rehab, having mortgages, playing different characters, doing theatre, waiting and then it not happening. And then doing rather well at something, enjoying my character work, but it not being a huge amount of money.'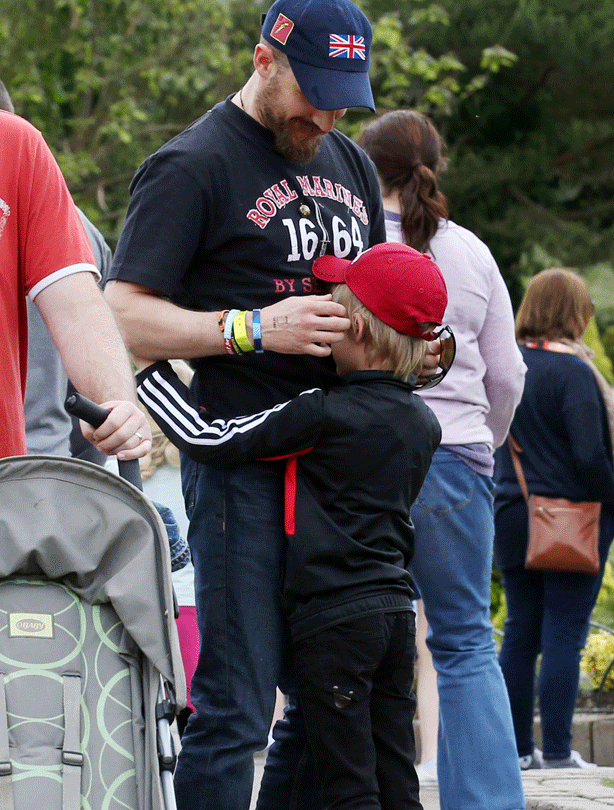 Tom pictured in May 2015 with his son Louis, whom he credit for saving him from addiction
'I made a lot of mistakes and I put my mum and dad through a lot because they were so worried about me,' he added.
'I take great pride in being a father and make sure I'm there for him and helping him as he makes his way in the world.'