We earn a commission for products purchased through some links in this article.
Image: Facebook/Triston Lowery
Welcoming a new baby is always an emotional moment – but Michael Miles managed to make it even more emotional for his girlfriend Triston when he combined the arrival of their daughter Lynleigh with a proposal!
Hatching a plan with the nurses at the hospital where Lynleigh was born, the car salesman arranged for the tot to be dressed in a custom made onesie, which asked Triston 'will you marry my daddy?'
When she's first brought into the room, Triston is simply expecting a cuddle with her newborn…
…and the surprise is evident on her face as she sees Lynleigh's outfit, and then turns to see Michael stood next to her with a ring.
'Will you?' he asks, as she nods and puts out her finger.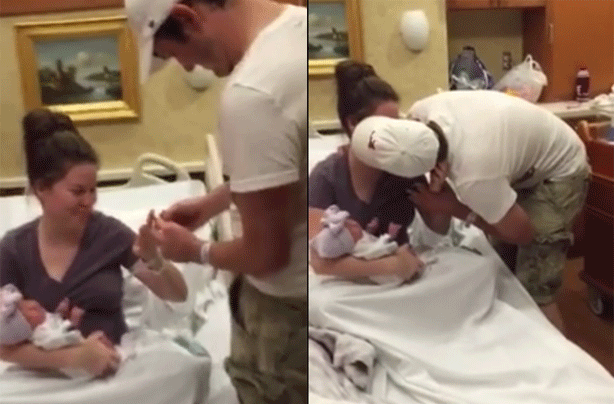 Triston is clearly overwhelmed with emotion, wiping away her tears as she struggles to balance holding her new baby and admiring her new ring. Then the camera zooms in, and we get a shot of the star of the show in her adorable outfit…
The final shots of the 1 minute 40 second clip show the new mum and dad cuddling their baby as their friends and family congratulate them on their double whammy of happy news.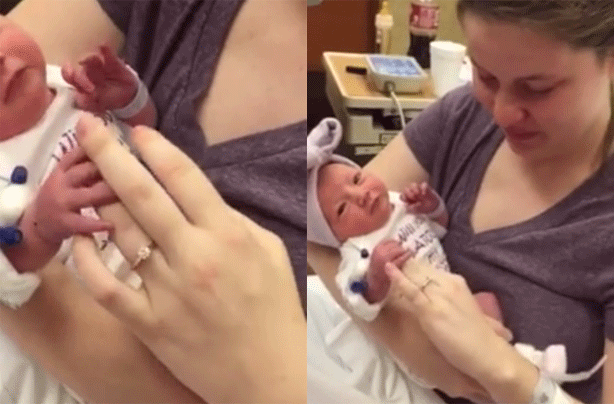 Michael's mum Debra managed to capture the entirety of the special moment on camera, and the video, which she posted to Facebook, has since been shared more than 11,000 times.
Watch Michael's proposal in full
https://www.facebook.com/sewyarnlovedbydeb/videos/vb.1394299350/10207862149097016/?type=2&theater
Michael told Buzzfeed News that he'd been wanting to involve his daughter in the proposal for a while, despite Triston's impatience for a ring.
'She couldn't figure out why we weren't getting engaged', he admitted.
Eventually his mum came up with the idea of using Lynleigh's onesie, and luckily, the question went without a hitch!
'I just went with it and it turned out really good,' he said. 'Everything went great and everything fell into place exactly the way it needed to.'