The best TV deals for families
With so many ways to get your TV and film fix, from free services such as Freeview to the likes of Sky, Virgin Media and even streaming services such as Netflix, it can get very confusing.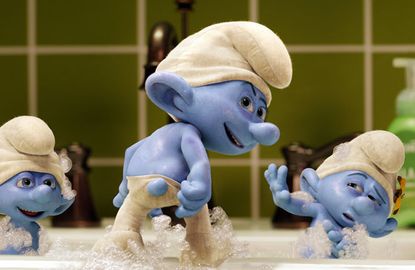 With so many ways to get your TV and film fix now, from free services such as Freeview and Freesat to the likes of Virgin Media and streaming services such as Netflix, it can get very confusing.
We look at the top providers of TV and films in the UK to help you work out what's best for you, how much they cost and what family and children's channels they offer.
Free services
Freeview With Freeview, you get 50 digital TV channels, up to 10 HD channels and 24 radio stations through your aerial for free. You can check coverage in your area on their website. You can also buy a Freeview+ digital TV recorder which means you can record one show while watching another, record a whole series and also pause, record and rewind live TV. Cost: All new flat screen TVs have built-in Freeview and there's no subscription or contracts with Freeview. If you have an older television set, you can buy a Freeview box from around £15. It's probably the cheapest way to boost the channels you receive. How to set it up: You don't need cables or a satellite box for Freeview, just an aerial that either connects to your TV (if it has built-in Freeview) or to the box if it doesn't. Family content: Children's channels on Freeview include CBBC, CBeebies and CITV. As well as terrestrial channels, you also get E4, Dave, Film4 and ITV3. Website: freeview.co.uk (opens in new tab)
Freesat Freesat also offers a free digital satellite service and is a joint venture between the BBC and ITV plc with over 200 TV and radio stations. You can also watch shows you've missed in the last seven days on 26 channels and use On Demand to watch programmes on BBC iPlayer, ITV Player, 4oD, Demand 5 and even YouTube. Cost: There are no ongoing subscription costs but you need a satellite dish and a Freesat box to receive the channels. If you already have a satellite dish e.g. with Sky, you can use that. If you need a dish installed, it will cost from £60 for a standard installation and about £30 more for HD as that requires two cables. A Freesat box costs from £20 but will cost more for a Freesat+HD box with Freetime which means you pause and rewind live TV or record a whole series. How to set it up: Assuming you have a satellite dish already, you just plug the current lead into the back of the Freesat box. Otherwise contact Freesat on n 0845 293 8230 or ask the shop you buy the box from about installation costs. Family content: There are lots of children's TV channels including CBBC, CBeebies, CITV, Pop, Pop Girl, Tiny Pop and Kik. Older kids will enjoy music channels like Smash Hits and Now That's What I Call Music. Website: freesat.co.uk (opens in new tab)
Subscription services
Now TV Now TV is a halfway-house if you want certain paid-for Sky channels without paying for a full Sky package. You buy a Now TV box and then buy a Sky Movies Month Pass, Entertainment Month Pass and/or a 5-day Sky Sports Day Pass (for all 6 live channels) to access these. The box also lets you watch catch-up TV from BBC iPlayer, 4oD and Demand 5 and you can download apps such as Facebook and Spotify. Cost: The Now TV box costs £9.99. You then buy a pass (which can be cancelled from month to month) to access channels. A Sky Movies Pass costs £8.99 a month (take advantage of the free one-month), a Sports Day Pass costs £9.99 for 24 hours and an Entertainment Month Pass costs £4.99 per month if you join by 29th May 2014. There are no prices for after that date but they would notify you if and when it goes up. You can also also take advantage of bundles. Pay £34.99 for the box and get either a 6-month Entertainment Month Pass, a 5-month Movie passs or a 5-day Sports pass (valid for five days in a one-year period). How to set it up: Set up an account on the Now TV website to order your box which will take three to five days to arrive. You also need a TV with an HDMI port, wifi and a minimum broadband download speed of 2.5Mbps. If your TV doesn't have HDMI, let Now TV know and they will help you connect it another way. Family content: Of the 10 live channels, family ones include Disney Channel, Comedy Central, Discovery Channel, Gold and MTV. You can also stream over 800 movies on demand including the latest family blockbusters. Website: nowtv.com (opens in new tab)
Sky There are lots of different packages with Sky such as Entertainment, Sport and Movies as well as broadband and phone. A standard box gives you live broadcasts while a a Sky+ box offers pause, rewind and record plus Catch Up TV. You also get Sky Go which means you can watch Sky programmes on your phone or tablet. Cost: The Original bundle costs £21.50 a month for over 35 channels, 240 free-to-air channels such as BBC, ITV and E4 and 10 free-to-air HD channels. They also offer The FamilyBundle for £22 a month for the first 6 months which then rises to £32 a month. This gives you over 80 channels such as Sky Atlantic HD, Discovery HD, Disney HD and more, TV Box Sets on demand, over 50 HD channels and the usual 240 free-to-air-channels. You initially sign up to a 12-month minimum contract which you can cancel afterwards. The first year costs £258 plus installation - see below. How to set it up: You need a satellite dish to receive Sky channels. For new customers, installation usually takes place from six days to two weeks of placing your order and takes about an hour to fit the dish and link up the cables. If you live in a flat, let Sky know - there may be a dish already. Standard set-up of Sky+HD box is £60 or £15 for Sky+ customers who want to set it up themselves (it must be done within 31 days of receipt). Family content: Sky's Entertainment packages offer a huge range of channels such as SyFy, TCM Classic Movies, Universal Channel, Gold, CBBC, Cbeebies and TinyPop. Website: sky.com (opens in new tab)
BT BT offers a comprehensive selection of channels as well as phone and broadband. Its TV Essential package offers up to 70 Freeview TV and radio channels, catch-up TV such as BBC iPlayer, a YouView+ box and the BT Sport app and online player. Cost: BT's TV Essential + Broadband costs £10 a month for six months and afterwards £15.99 a month or you can pay a bit less - £141- for 12 months in advance. There is also a £35 TV activation fee. As well as the channels above, you get up to 10GB usage and 16MB download speeds for broadband plus free weekend calls. The TV Entertainment costs £22 a month which offers 18 extra channels such as Discovery and Comedy Central. It's subject to an 18-month contract and £15.99 monthly line rental. If you pay 12 months in advance, the first year would cost £332.88. How to set it up: In most cases, there's no need for an engineer to visit your home unless you need a brand new line installed. You will receive a user guide which details each stage of the install process and BT claims it should take under 30 minutes to set up your BT Vision+ box which connects to your BT Home Hub router with the Ethernet cable. You then plug the TV aerial cable into your BT Vision+ box which connects to the TV with a Scart or HDMI lead. You then plug in the box, switch it on and turn the remote control on. Family content: You can add 'bolt-ons' such as Kids, Music and Film & TV Box Sets. The BT Kids package offers channels such as Boomerang and Cartoon Network on demand, and are available without ad breaks. Entertainment customers also get kids' channels such as Boomerang, Cartoon Network and Disney. Website: bt.com (opens in new tab)
Virgin Media Virgin Media's Starter Park includes fibre-optic broadband, a 500GB TiVo box, over 60 channels, unlimited weekend calls and free installation worth £49.95 plus Virgin TV Anywhere so you can watch on your phone or tablet and wifi calls using SmartCall. Cost: Virgin Media's Starter Park costs £10 a month for for six months then £20 a month plus a Virgin Phone line for £15.99 a month so the first year costs £371.88. The Essential Collection costs £15 a month for six months then £28 a month plus line rental costs £449.88 and for the full range of family channels, choose the Essential Family Collection, you'll have to pay £19.50 a month for six months followed by £39 a month plus line rental which comes to £542.88 for a year. All are subject to an 18-month contract. How to set it up: There's no dish or aerial as it's via fibre-optic cables. Installation is carried out by a Virgin Media engineer at a time that you specify which includes Saturdays. Servicing and repairs are also included in the cost of your package. Family content: Virgin Media's 'M' package is included in the Starter Collection. This includes usual channels plus CBBC, CBeebies and CITV. The 'XL' TV package is in the Family Collection and includes Cartoonito, Boomerang, Disney Channel and Nickelodeon. Website: virginmedia.com (opens in new tab)
Talk Talk TalkTalk offers a combination of TV, broadband and phone packages. It uses a YouView box to access these channels. Cost: The best-value package is Essentials TV for £7.50 a month plus £15.40 line rental. For this, you get unlimited broadband, evening and weekend calls to UK landlines, free calls to TalkTalk landlines, 7 days catch-up TV, over 70 Freeview channels and a free YouView box worth £149. You can also buy Boosts from £5 a month depending on what you want to watch. How to set it up: You'll need to have a phone line installed if you've recently moved house. It's currently offering free installation worth £50 (opens in new tab). Family content: TalkTalk offers Kids Boosts with 16 children's and On Demand channels such as Nickelodeon and Nick Jr. for £5 a month. The Entertainment Extra Boost has over 60 channels and costs £15 a month. TalkTalk has also recently added Nicktoons to its TV services which show cartoons such as SpongeBob SquarePants, Teenage Mutant Ninja Turtles and Sanjay & Craig. It is part of TalkTalk TV's Kids Boost and Entertainment Extra Boost which has 16 children's channels such as Scamp, Nickelodeon and Nick Jr as well as MTV, and On Demand. Website: talktalk.co.uk (opens in new tab)
Streaming services
Amazon Instant Video (was LOVEFiLM Instant) LOVEFiLM is now rebranded under Amazon and has joined forces with their Prime service. You can buy or rent over 50,000 digital movies and TV episodes, get unlimited access to over 15,000 movies and TV episodes for streaming and borrow from 500,000 titles in their Kindle library. Note that the LOVEFiLM by Post remains as it is - see below. Cost: Amazon Prime costs £79 for one year with a 30-day free trial, It gives you fast, unlimited one-day delivery on Amazon items, over 15,000 movies and TV episodes for streaming and you can borrow a book a month from its Kindle Owners' Lending Library. Alternatively, you can pay £5.99 a month for Prime Instant Video just for the unlimited streaming which you can cancel at any time. Both products offer a free 30-day trial. How to set it up: You need an Amazon.co.uk account to start your membership. If you're an existing LoveFilm customer, you should log-in to your LOVEFiLM account and follow the instructions for switching over to Amazon (all your settings will be moved over too). Family content: There's a huge range of films and TV programmes from Hollywood blockusters to Disney films and popular children's TV programmes. Website: amazon.co.uk (opens in new tab)
LOVEFiLM By Post service Although part of Amazon, LOVEFiLM by Post remains the same. Films are sent by free first-class return post and include movies, TV series, kids' cartoons and documentaries. Cost: Amazon Prime members pay £6.99 month after a free 30-day trial and can receive unlimited films, two at a time. If you're not a Prime or Prime Instant Video member, this service costs £7.99 a month. There no contracts to sign and no late fees. You can cancel membership at any time. Family content: Everything from the latest family blockusters and Disney films from Tangled to The Smurfs 2 to films such as Saving Mr Banks and The Croods. Website: amazon.co.uk (opens in new tab)
NetFlix Netflix is another streaming service which brings films and TV programmes to your televisions, tablet, phone, X-Box, Apple TV and many other devices. It is particularly good for its selection of TV programmes.Cost: Netflix costs £5.99 a month for unlimited streaming so you can watch whatever is there. They also offer a free 30-day free trial. How to set it up: Register on the website for an account. Once you have registered your payment details, it's a matter of selecting the films or TV programmes you want to stream at that moment. Family content: It has a good children's section with Disney and Pixar movies plus programmes such as as well as Johnny Bravo, Adventure Time and Teenage Mutant Ninja Turtles. Website: netflix.com (opens in new tab)
Switching broadband Many TV packages include broadband. So don't be put off from switching to a better TV provider just because you have to switch your broadband. Make sure you're not in contract and inform your current provider that you want to leave (you might even get yourself a good deal from them in the process!). Ask if you need a MAC (migration authorisation code) to give the new provider who will usually take care of the transfer. You often need a MAC when you're switching from a phone line broadband (ASDL) to fibre or cable.
Before you switch, check how long the contract you're entering into is, as it could be for longer than you want e.g. 18 or 24 months. Also compare broadband speeds and download speeds with what you're already on. Use website likes broadbandchoice.co.uk and uSwitch.com to compare packages.
Where to next?




Supermarket delivery costs