Victoria Beckham posts emotional tribute as Brooklyn heads to university
The fashion designer, 43, posted a picture of her and Brooklyn together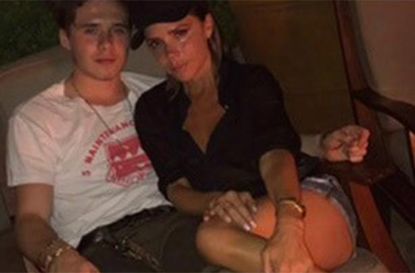 Victoria Beckham has posted an emotional tribute to her eldest son Brooklyn as he leaves for university.
Brooklyn, 18, will be attending university in New York to study photography, and to mark the occasion Victoria posted a picture of herself and her son, along with a caption which read: 'We are all so proud of you Brooklyn. Amazing A level results and off to college. We love you so much and will miss you. #yesiamcrying #emotional x'
Many fans rushed to send Victoria messages of support, with many admitting that they could relate to what she was going through.
'You're so sweet Victoria, I know the feeling, he'll be fine, and so will you, hugs n kisses,' one commented, whilst another added: 'Aw I can't even bare to think about what that feels like. My eldest is only 6. Time flies and I appreciate every moment! At least there's others in the nest to keep you busy. X'
Victoria, 43 and husband David, 42, have been spending time with their children in Los Angeles recently. The couple, along with Brooklyn and their other three children, Romeo, 14, Cruz, 12 and Harper, 6, have been seen at the Ice Cream Museum, as well as on the set of US show Modern Family.
Ex-footballer David also shared a picture of him and Brooklyn in New York captioning the picture with: 'Englishmen in New York @brooklynbeckham @victoriabeckham'.'
Brooklyn, who is said to be named after the place where he was conceived, caused controversy recently when he shared an image of a recent tattoo on his foot which said 'Made in England', as it seemed to contradict with the famous story.
Victoria wrote about his name in her book, when she said: 'I had always liked the name Brooke and then we suddenly thought about Brooklyn. I'd always like it as a place - it's very multi-cultural, very grounded.
'And it was only afterwards that I realised how appropriate it was because it was in New York that I found out I was pregnant and where David came after the World Cup.'
Sarah is a freelance journalist, writing for various women's magazines and national online consumer titles including the BBC and The Daily Mail, for over 10 years. Sarah has interviewed CEO's, real-life case studies and celebrities. Writing on everything from travel to fitness, and business to beauty - some of her features have been read by millions of people - in just one day.