Walker Hayes and his wife Laney announce their seventh child has died shortly after birth
The couple posted a joint statement on Walker's Instagram.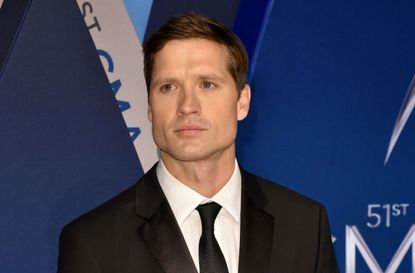 Country singer Walker Hayes posted a statement on his Instagram revealing that Laney gave birth to the couple's seventh child together this week but the baby sadly died soon after.
Taking to Instagram to share the couple's heartbreaking news, American country singer Walker posted the following statement:
'It is with great sadness that Laney and I share with you the news that our sweet Oakleigh Klover Hayes was born this morning at the hospital and now is safely in heaven. Thank you for honouring our privacy as we grieve.'
The post also detailed Walker's plans for his next performances and show dates. It explained: 'Walker has cancelled his immediate upcoming appearances to be home with Laney and their children. We ask that everyone respectfully give the their privacy in this difficult time.'
Walker's fans flooded the post with their condolences with over 1,000 comments in the first three hours of the post being published.
One fan wrote: 'I am so very sorry to learn of your loss - prayers to you and your family 💙'.
Another said: 'Lifting your family up in prayer. So deeply sorry. May god comfort you, your wife and your children'.
A third added: 'So sorry Walker.Thoughts and prayers go out to you and your family and may God give you all the love and support to see you through this difficult time.🙏🏻'.
Walker and Laney Hayes already have six children together, three boys and three girls, and the whole family were very excited when they announced they had a seventh on the way back in November.
Walker and Laney back in April at the 53rd Annual Academy of Country Music Awards
Walker broke the news during an interview with The Bobby Bones Show and said: 'I got news, guys...No. 7 is on the way. Were losing-our-minds excited.'
The couple's children had been told before the news went public, but Walker joked that they had started telling everyone so the couple had to announce it soon.
Jessica currently works as a Senior Food Writer at Future. She writes food and drink-related news stories and features, curates product pages, tests, and reviews equipment, and also develops recipes that she styles on food shoots. An enthusiastic, self-taught cook Jess adores eating out and sharing great food and drink with friends and family. She has completed the Level 1 Associate course at the Academy of Cheese and is continually building on her knowledge of beers, wines, and spirits.