Slime toys found to contain dangerous levels of chemicals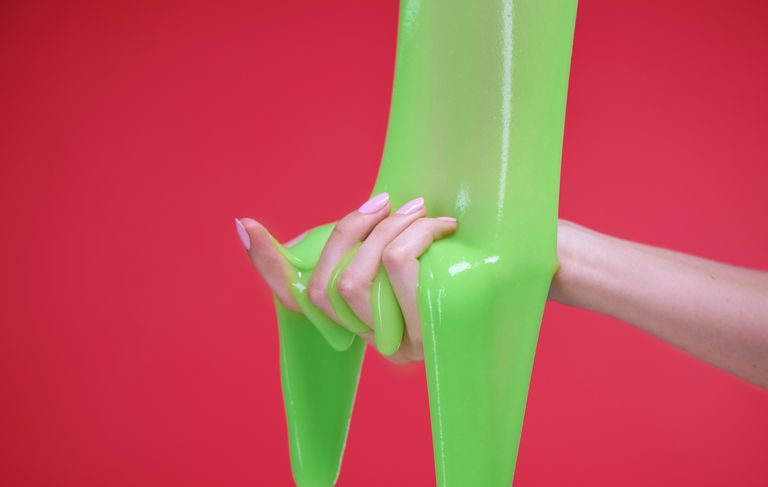 Slime sold in Argos, Hamleys and Smyths have been found to contain harmful ingredients, which can make children sick.
Best-selling putty and slime toys have been found to contain high levels of the chemical boron, which can cause vomiting and diarrhoea, an investigation found.
Slime will be on lots of children's Christmas present lists this year as it's one of the most popular trends for 2018, with the gooey products being advertised on millions of DIY slime-making videos on Instagram and YouTube.
However, an investigation carried out by Which? magazine discovered that six out of 13 slimes sold at major retailers contained up to four and a half times the legal limit of boron when they were tested.
Boron is found in borax, a common ingredient in slime which creates its stickiness.
Exposure to high levels of boron can cause nasty health problems, including skin irritation, diarrhoea, cramps and vomiting.
According to the European Commission, long-term exposure to very high levels of the ingredient can even cause harm to an unborn baby and infertility.
There is no suggestion, however, that any of these products will cause nasty health side effects.
The products tested included slimes bought from Smyths, Amazon and a product referred to as putty from Argos.
These included a DIY Slime Kit, made by Essenson and sold on Amazon, which contained a purple slime that had four and a half times the legal level of boron.
Also tested was Grossman's Ghostbuster slime, sold by Smyths, which was found to have more than three times the limit.
Fun foam, made by Zuru Oosh and sold by Argos also broke EU rules on the chemical.
Frootiputti, which made by Goobands and was on sale in Hamley's had four times the limit for some toys.
Hamleys, Amazon and eBay have since stopped selling the tested products.
Smyths has released a statement saying it followed "the highest safety standards" of EU regulation, and carried out its own investigation to confirm that its toy is putty, therefore passes the EU safety test.
The EU safety limit is 300mg/kg of boran for slime and 1200 mg/k for putty.
Putty is moldable and keeps its shape, while slime on the other hand is more slippery. Putty contains more boron.
The Which? investigation also found that manufacturers are allowed to declare their products as safe, despite containing high levels of boron, by putting a 'CE' mark on their toys.
Which? has made a call for an independent body to certify safety checks for toys to ensure better safety regulation.
Nikki Stopford, director of research and publishing at Which?, has said: 'Parents should have confidence that the products that they buy for their children will be safe, but our latest investigation has uncovered harmful products being sold by even big retailers.
'Again, we're calling on manufacturers to stop making unsafe products, and for the government and retailers to step up and do a much better job of ensuring only safe products get into people's homes and into the hands of children.'
If you have already purchased one of the toys tested in Which?'s investigation, you may be able to return it to the retailer you bought it from and get a full refund, as long as it's within 28 days of your purchase.
Niamh McCollum is a freelance lifestyle writer who has written for Future titles GoodTo and Marie Claire UK, plus the Irish Independent. The Dublin-based journalist specialises in stories
affecting families - from health updates, to the freshest parenting debates and celebrity announcements.