What it's really like to be a foster parent: 'When he left we cried our eyes out'
'Showing children that family life can be positive, loving and functional has been amazing'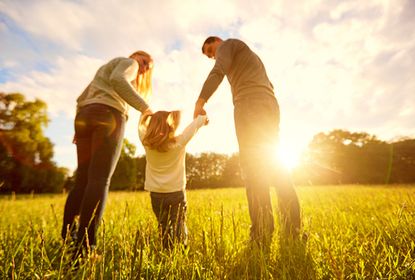 (Image credit: Getty Images/iStockphoto)
No one would ever deny that fostering can be a challenging experience - but it's also an incredibly rewarding one.
Here, mum-of-three Andrea, who estimates that she and her husband have cared for around 70 children over their 10 years as foster parents, tells us about the ups and downs of fostering, and reveals what it's really like to say hello, and then goodbye...
My husband and I first thought about fostering 13 years ago
We were inspired by some friends who had been fostering for 15 years, and made it seem like a very normal part of family life. They initially advised us to apply to a private fostering agency, because we'd be more likely to get more individual attention and help with our placements, and the pay was better too.
However, after some research, we learned that the local authority was the first place where all foster children come through, and that children who are registered with private agencies would be more likely to have behavioural issues. As we were new to the process, we wanted to ease ourselves into it - the money wasn't our priority anyway, so we decided to work with the council instead.
Once we were approved - after being interviewed and investigated multiple times and very thoroughly - we attended group meetings with other potential foster parents. We then had to be approved by a panel. Becoming foster parents takes a lot of time and investment - it took us about a year to finally get through the system.
After that, you're just waiting until you get that phone call to ask if you can foster a child. You could be waiting for two weeks, like we did, or for months on end.
The first child we fostered was through an emergency foster placement
He arrived at our house in a police car, which the social worker told us was very unusual. He was only 18 months old, and had been removed from a volatile situation in a doctors' surgery and brought straight to us. His mum arrived as well, and left shortly after.
We were all so nervous, but really excited. He stayed with us for two months, and it was such a lovely time. There had been a domestic violence issue at his home, so he stayed with us until his mother's partner was gone - his being taken into care was actually likely to have been the catalyst for the breakdown of their relationship.
He was rehoused with his mum, because she proved to the authorities that she was capable of looking after him and that he would be safe. We got on with her really well, and were so glad that everything worked out for them.
Each time you foster a child who arrives with absolutely nothing, your expenses for them are covered. For example, when we've fostered very small children and toddlers, we've received money that covers the cost of nappies, clothes, and other items that we wouldn't usually have in the house. All you need is a spare room for each of them as a bedroom - except if siblings come together under the age of eight, then they can share a room.
From then on, children of all different ages and from all different backgrounds came and went. When we received a toddler, my kids got really excited - they absolutely adored the little ones.
However, it wasn't always plain sailing
There were occasions where our own children felt a bit pushed out by fostered older children and teenagers, or they clashed with them. I think they enjoyed it more when they were younger, but as they got older it was slightly more difficult.
You can't always tell how long you'll foster a child for. Sometimes, a foster placement breaks down, meaning that you can't cope with looking after a child for various reasons, and their social worker will try and find somewhere else for them to live. We had one placement break down because of clashes between the kids.
Sometimes it would be difficult to manage the relationships in the household. When a child comes in who knows they're not quite part of the original family, you can find yourself constantly changing your behaviour towards everyone to make sure they don't feel you're favouring your own children over them. Likewise, you don't want your own children to feel like they've been demoted below the foster children.
After we'd been fostering for five years, my eldest asked if we could take a break so he could spend his last year before university just with us as a family.
It hadn't been just the five of us as a family for a while, at least not for long stretches of time
His dad and I completely understood and agreed, and we're really glad we took a break. Now, with two kids at university, we only do respite placements - which last from an afternoon to a week or so.
My husband and I always said that although we would always take our own children's feelings about fostering into consideration, and would stop it completely if they asked, we are glad that we gave our children the opportunity to grow up aware of how lucky they are.
Living with children from different walks of life, who haven't been as fortunate as they are, has provided them with an amazing perspective and a real desire to help others. They are so grateful for what they have, and rarely take anything for granted.
Showing some of these children that family life can be positive, loving and functional has been amazing
There was one time when we became very attached to a little boy, who was with us for 18 months - the longest we'd fostered a child. He came when he was nine days old, and when he left we all sat on the sofa and cried our eyes out.
Saying goodbye to him was one of the most devastating things any of us had gone through. At that point, my husband and I questioned whether it was worth putting our children through that - but we all agreed that it was so rewarding having him as part of the family, that the benefits outweighed the negatives.
I also once got a text from one of the children I had fostered on Mothers' Day, reading: 'Happy Mother's Day to the only person who gave me any idea of what a mother should be like.' To know that the short window of time they were with us had such a positive impact is truly amazing.
To be successful at fostering, all you need to do is be a normal family that wants to help
People often think that you have to have amazing, charitable capabilities, but you really don't - anyone who cares about children and wants to provide a regular household for them can do it.
People say to me that they couldn't be a foster parent because they would find it too hard for each child to leave. Life is hard, and what a lot of these children have gone through is much tougher than what you'll face when you say goodbye to them. It is awful, but you have to move on with life and help the next child.
Trusted, informative, and empathetic – GoodTo is the ultimate online destination for mums. Established in 2007, our 15-year-strong archive of content includes more than 18,000 articles, 1,500 how-to videos, and 7,000 recipes.