Mum defends decision to spend £1,500 on presents last year and MORE this Christmas
The average person in the UK buys 14 gifts - she's bought 300!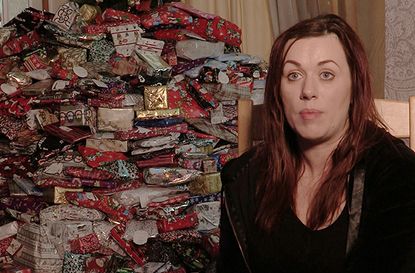 A mum-of-three who sparked controversy last year for her massive pile of Christmas presents has defended her decision to spend a whopping £2,000 this Christmas.
Emma Tapping from Isle of Man became internet famous in 2015 when she tweeted a photo of her Christmas tree being swallowed up by a mountain of gifts. She was branded 'abusive' for spoiling her children, as the picture quickly went viral.
Last year, Emma spent £1,500 on 300 gifts for her three kids, Mia, Ella and Tatum. Now, she's bought 350 gifts for £2,000 for the children, including Christmas Eve presents.
But the mum has defended her decision on This Morning, telling hosts Holly Willoughby and Philip Schofield that it's her money and she should be able to spend it how she likes without judgement.
Image: This Morning/ITV
'I've managed to do it all again without credit cards and without debt. I'm not asking anybody for a penny of their money', she said.
While she has faced harsh criticism by some people for her decision, Emma said anyone who doesn't agree shouldn't feel the need to openly slam her decision. She said: 'If you don't like it scroll on, if you think it's boring turn the page'.
Emma also explained that other people have said that even if they wouldn't buy that many presents themselves, they accept that she should be free to give as many presents as she likes.
On Christmas Day her children will take around three hours to open everything, with a break in between, while Emma admitted she starts wrapping the presents in August so they're all ready for the big day.
When asked if having all the presents wrapped already ruins the magic of Christmas, Emma assured viewers that the kids also get a little present from Father Christmas based on what they wrote down in their Christmas list.
She told The Sun: 'What I love about Christmas is the magic of it, and it's family time for me, it's about being with my loved ones and I love seeing their faces when I give them gifts.
'I do go overboard at Christmas, definitely. It's loads of pressies, loads of food, stuffing your face and just relaxing, having a good old day.
'I think they had about 85 presents each last year. This year they've got about 96 each, so they've got a few more bits.'
https://www.facebook.com/tappingsave/photos/a.361648074044027.1073741829.359273754281459/636277589914406/?type=3&theater
People have commented on her post, saying the amount of gifts is ridiculous and unfair.
'Christmas is about the love and memories there, not just about how many presents can be put under the tree and shared on Facebook for 'likes',' wrote one person.
'I feel sorry for those children that see this being shared and have their Christmas be made to feel anything less than special.'
'Good luck spoiling your kids future by throwing gifts at them, they'll expect that all their lives, try helping out the less fortunate,' commented someone else.
'You can appreciate your loved ones without buying & spending so much. I hope you and yours have a great Christmas, but I feel sad for you and everyone else whose goal is to buy and buy and buy.'
This year, Emma is refusing to allow other people to make her feel bad for buying so much.
'Another year of hard graft, saving and planning. Another year of my family making me proud everyday. They deserve a great Christmas. The haters will hate but nothing and no one will change how I do Christmas,' she captioned her photo.
On average, each adult in the UK purchases 14 presents each - but Emma takes it a bit further with her 300 gifts, which are clearly swallowing up her Christmas tree.
Now, the family are the stars of a new documentary from Channel 5, titled 'Xmas Excess: Parents Splash The Cash' which airs Thursdays at 8pm.
In a promo clip for the programme, she laughs about the enormous pile.
'It's a bit like Jenga - if you pull the wrong one out you might lose a child for a few hours.'
Talking about last year's backlash, Emma said how she found out about the attention her tweet was getting, and her reaction to the criticism.
'A friend of mine tagged me in the picture and was like, "Isn't this your tree?"
'I didn't think anything of it, and then within a couple of days it had been shared 100,000 times.
'I'd gone from being a normal mum to being in the papers, being talked about, being on TV.'
https://www.facebook.com/tappingsave/photos/a.361648074044027.1073741829.359273754281459/504561799752653/?type=3&theater
Emma also says that her kids rarely get treats during the rest of the year.
'If you ask me do I spoil my kids, I would say at Christmas yeah I do, but I don't spoil them throughout the year.
'They get their necessities, their school uniforms, the things that they need, but we don't go on holidays abroad, they don't go on big shopping sprees - anything they want they get it for Christmas.'
She used to care about all the criticism, but she's determined not to this year.
'When it first happened I felt like I had to stick up for the kids. I felt like I had to justify what I was doing.
'Now I couldn't give a toss what anyone thinks. It's not going to change the way I do things, and if they don't like it, it's a good job I'm not their mum.'
Image: Xmas Excess: Parents Splash The Cash/Channel 5
Part of the programme shows the family in the lead-up to Christmas - including an insight into how Emma gets all the shopping done.
This year, she flew to Liverpool for a shopping trip with an empty suitcase, £250 in cash and a bank card.
'I've got about £250 with me in cash, then I've got my card, so I'll just keep going until I've had enough,' she says in the documentary.
Emma says she aims to get everything bought by November, but she often gets tempted to keep buying.
'I've put a ban on myself - even if I see things now I don't buy them.'
After that, she and her partner James get to work stacking the presents under the tree - which James says is like 'moving house'.
Image: Xmas Excess: Parents Splash The Cash/Channel 5
Finally, the kids open everything on Christmas Day, which involves a lot of mess and happiness.
'You can't see the floor for presents and wrapping,' jokes Emma.
'For all that's been said about us and what we've been through, this morning made it all worth it.
'Just seeing their little faces, and everyone was happy - it was great.'
Apparently, not all of the gifts from last year get much use. Emma's daughter Ella says that she hasn't touched a popcorn maker or a notepad all year, and that she stopped using her tablet after she broke and lost the charger.
Emma has a popular Facebook page named Thebossmum Money Saving Specialist, on which she reveals her hacks for saving money when buying gifts.
Trusted, informative, and empathetic – GoodTo is the ultimate online destination for mums. Established in 2007, our 15-year-strong archive of content includes more than 18,000 articles, 1,500 how-to videos, and 7,000 recipes.