Zoe Hardman reveals how her first aid training saved her baby's life
It was 'the worst thing that could ever happen to a parent'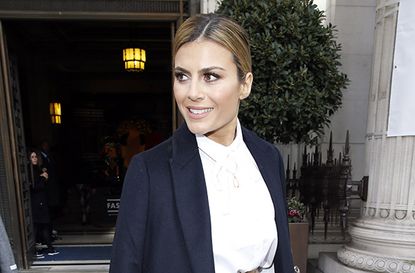 (Image credit: GC Images)
GoodTo newsletter
Sign up to the GoodTo Newsletter. You can unsubscribe at any time. For more information about how to do this, and how we hold your data, please see our privacy policy
Thank you for signing up to . You will receive a verification email shortly.
There was a problem. Please refresh the page and try again.
TV presenter and Heart FM favourite Zoe Hardman suffered every new parent's worst nightmare when she had to nurse baby Luna through a seizure.
Barely three months old at the time, Luna's seizure was thought to have been caused by a urine infection and a fever peak of 40 °C. Zoe, who described the incident as 'the worst thing that could ever happen to a parent' had taken a first aid (opens in new tab) course only five days previously, and was able to stay calm under the pressure.
'If I hadn't had the first aid course I wouldn't have known what to do and would probably have panicked. But then the training kicked in and I knew I needed to stay calm - I put her on the floor in the recovery position and called 999.'
Describing the horrible moment the terror kicked in, Zoe says: 'I heard this horrible noise on the baby monitor from the nursery, and bolted over there. Luna was shaking and convulsing. She was deathly pale and was having problems breathing.'
Thankfully, emergency services were quick to respond and mother and baby were rushed to hospital where Luna was treated by healthcare professionals and has now made a full recovery.
Zoe has spoken out about the traumatic experience to mark the launch of this years' St John Ambulance Everyday Heroes Awards. The event honours local lifesavers, community heroes, organisations and members of the public who have used their first aid to help others.
'If I hadn't known what to do when she had the seizure, it could've been so much worse,' adds Zoe. 'It was so lucky that I'd had my first aid training.'
Zoe and her rugby player boyfriend Paul Doran Jones welcomed Luna back in September 2016, announcing the news with an adorable black-and-white snap of her little hands.
Of the birth, Zoe admitted that she found it 'gruelling' and 'traumatising' (opens in new tab) after she had to abandon her planned water birth for a forceps delivery.
But she's clearly loving her new role as mum, saying 'It's everything I could have hoped for times about 10.'