Calling all M&Ms fans! ASDA has launched a new M&Ms chocolate spread
And shoppers have been going wild over it...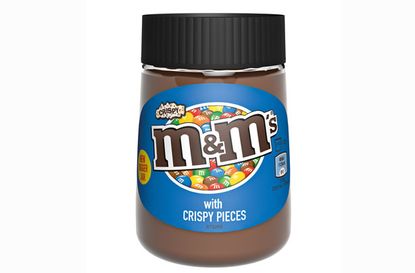 ASDA has launched a new M&M's chocolate spread and shoppers have been going wild over it.
Sure to appeal to anyone with a penchant for Nutella and Cadbury versions, the dreamy offering from confectionery giant Mars features bright crispy pieces for added texture and colour.
If you're desperate to get your hands on a pot of the heavenly chocolate and hazelnut creation, you'll have to make a trip to ASDA, as it's the only supermarket selling this special retro chocolate bar (opens in new tab) spread.
A tub of the sweet treat - which comes in a family-friendly 350g size - is yours to purchase for £2.79. Vegetarians will also be thrilled to know that the product is suitable for non meat-eaters.
Just like when it was announced that a white chocolate Creme Egg (opens in new tab) many sweet tooths have taken to social media to share their glee.
'Blue M&M chocolate spread with crispy pieces. YES PLEASE. I will 'av some of that,' quipped one chocoholic.
Another cheekily added: 'I will now use M&M spread on all of my sandwiches in the future and looking for anyone else that will do the same!'
We can't help wondering if M&M's decided to launch the product after spotting a comment by a random Twitter user at the start of last year.
Back in February, they wrote on the social network: 'Imagine if they made crispy m&m chocolate spread, would be a game changer.'
While we've no doubt that M&M&'s crispy spread would make the perfect toast topping or a delicious filling for a Victoria sponge cake, we can't helping thinking that it's the ideal treat for Pancake day (opens in new tab).
Just a few weeks away on Tuesday 13 February, we'd love to drizzle this over the top of a warm stack of pancakes... Yum!
Are you excited to try the new M&Ms spread? Let us know in the comments below!