Spoiler alert: Here's what they're making on episode nine of The Great British Bake Off
Oh la la, this week is *very* fancy...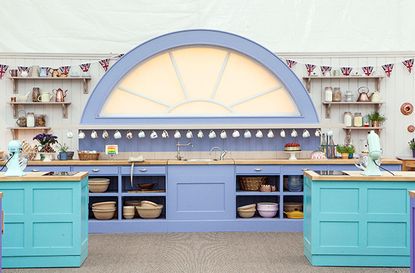 Episode nine of The Great British Bake Off (opens in new tab) is the semi-final, where the final four bakers go head-to-head to compete for their chance to win the coveted Bake Off Champion title.
Last week we saw Bake Off contestant (opens in new tab) Liam leave the tent after he failed to impress Prue and Paul with his 'forgotten bakes (opens in new tab)' offerings. But will the challenges this week be any easier?
The theme of week nine on The Great British Bake Off is patisserie (opens in new tab), with the contestants being tasked with creating fancy French pastries under the usual time constraints and pressures of being filmed.
From the looks of things Paul has set a couple of intricate recipes for the bakers to work on, including, apparently, a yeasted cake. Here's what we're speculating they're making on The Great British Bake Off week 9…
The Great British Bake Off week 9 Signature challenge: Yeasted cakes
If rumours are to believed it's a yeast-based cake first up for the remaining four bakers to get their hands on. There have been whispers of complicated chocolate work and fruity toppings, so we'll have to wait and watch out for the finer details tonight, but we're excited to see some serious creativity.
The Great British Bake Off week 9 Technical challenge: Lamination
For the technical challenge the bakers once again are given minimal instructions, to keep them on their toes. Of the small snippets of the show we've seen we're guessing the challenge is a pastry task, with Mr Paul Hollywood having picked the recipe. The word 'lamination' is being thrown around, which is the term used to describe the layering of butter and dough used in recipes like puff pastry. We're guessing this little number could be a mille feuille (opens in new tab), a dessert made up of puff pastry, cream or custard and fruit – but the important question is, what will the filling be. Custard? Cream? Fruit? All three… We can't wait to find out.
The Great British Bake Off week 1 Showstopper challenge: Multiple mini cakes
The showstopper challenge is rumoured to be a large presentation piece made up of mini bakes. In the clips we've seen the bakers seem to be busying themselves with French classics like profiteroles (opens in new tab), made from choux pastry, macarons (opens in new tab), made from egg whites and almonds and intricate layered sponges (opens in new tab) made up of different coloured batters.
Rosie is an experienced food and drinks journalist who has spent over a decade writing about restaurants, cookery, and foodie products. Previously Content Editor at Goodto.com and Digital Food Editor on Woman&Home, Rosie is well used to covering everything from food news through to taste tests. Now, as well as heading up the team at SquareMeal - the UK's leading guide to restaurants and bars - she also runs a wedding floristry business in Scotland called Lavender and Rose.