Meet the 2017 Bake Off contestants
Flo's our kind of girl...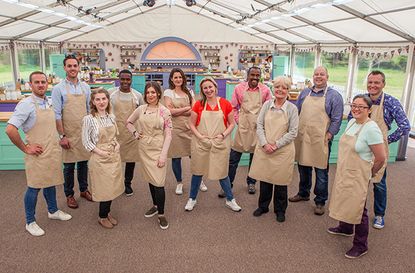 GoodTo newsletter
Sign up to the GoodTo Newsletter. You can unsubscribe at any time. For more information about how to do this, and how we hold your data, please see our privacy policy
Thank you for signing up to . You will receive a verification email shortly.
There was a problem. Please refresh the page and try again.
As ever The Great British Bake Off (opens in new tab) contestants for 2017 are varied bunch, and having had a sneak peak at the first show we can say one thing for certain – you're in for a treat.
Both in terms of age-range and personality, the line-up this year is a real mix. As in previous years, the amateur bakers are 12 people you're going to want to do well in the challenges set by judges Paul Hollywood and Prue Leith.
With the youngest baker being just 19 in Bake Off 2017 (opens in new tab) there's bound to be some experiments abound, while at the other end of the spectrum grandparents bring an air of seasoned ability. However, nothing ever goes quite how we think it will on Bake Off, so despite the varying levels of experience we're no in no doubt that there will be some surprises along the way.
To help you get to know the bakers a little bit better we've put together a list of some highlights about each one. Here's what we know so far…
James
James is a married finance manager and dad of two from Essex with a love of the home-grown, who was inspired to bake by his father. Without giving away too many spoilers, James brings together two elements of his life to make one cake for his first showstopper, making us think he's a sensitive soul who may well offer up more personally-themed cakes and bakes in the future.
Stacey
As a busy stay-at-home mum to three boys we think Stacey is probably well used to a challenge or two in her daily life. Even when things don't quite go to plan, Stacey just cracks on - we think she's going to be a fighter and won't let a few knockbacks get her down.
Liam
The baby of the competition Liam is a student from Hackney. At just 19 he has two nephews who are tough judges of his home-made creations, and no doubt keep him on his toes. During his first appearance on the show Liam reveals that he tries to make pancakes for him and his mum every weekend, making us think he might just be a real sweetheart.
Julia
Russian-born Julia taught herself to bake, and has spent a staggering three years practising British delicacies in particular to give herself the best chance of getting on the show. And as if she couldn't get cuter, just wait until you see her baking with her gran, via Skype.
Sophie
Sophie is a former army officer from Surrey, and her training gets her far - in fact, in the first episode she admits that she's worried she peaked too soon! We think she might just be one to watch after she also produces a unbelievably realistic cake for her showstopper!
Peter
Quietly confident Peter is an IT manager who bakes every Sunday for his local church. As he works through the challenges of episode one, Peter explains that his showstopper is shaped to represent the very first thing he learned how to bake. We like that he's reflective and think he might be quick to become a favourite for lots of people.
Chris
Chris comes in with a punchy move, making a cake with no fat in it whatsoever, that even leaves Pru admitting that she's never heard of such a thing. In the showstopper round Chris, from Somerset, rustles up what he thinks is Paul's favourite treat. We like his cheeky chancy nature, and think he'll go far with his tactical baking.
Yan
Biomedic and football enthusiast Yan is from Enfield and is somewhat of a mixed bag, flying from disaster to detailed showstopper using lots of different technical skills. We think her range of techniques will see her go far!
Flo
Once you've watched Flo on screen once, you'll be hooked. This lovable grandma from Liverpool isn't afraid to have a bit of banter with the judges, and certainly knows a thing of two about baking a masterpiece, with her first signature bake standing three-tiers tall. The moment we fell in love with her was when she admitted she had to ask her daughter to help her print out her recipe, and revealed that she had left her little motivational messages at the bottom – if you don't love that, you're a lost cause.
Tom
Tom wants to be the first Scot to win Bake Off and confidently opens by topping his signature bake with a whole gold-leafed decoration - which Pru jokes that she thinks she shouldn't like, but does. As an architect we're expecting Tom to perform really well at anything that requires a solid structure or lots of layers.
Kate
Health and safety officer and keen amateur blacksmith, Kate seems to be a crafty baker, with a bit of attitude too (which we like)! After finding out what the technical challenge was she said 'never made one in my life, why would I?' We think she might just say it how she sees it, and we can't wait to watch more of her in action.
Steven
Marketing Executive Steven is from Watford. He was taught to bake by his mum at just three years old and looks to be a bit of a perfectionist. Let's just say his final bake takes 2kg of fondant to complete it, and it involves a spray gun. If the first episode is anything to by, Steven might be a real contender for the Bake Off crown...