Aldi are selling a cheese board for Christmas that comes complete with a set of serving tools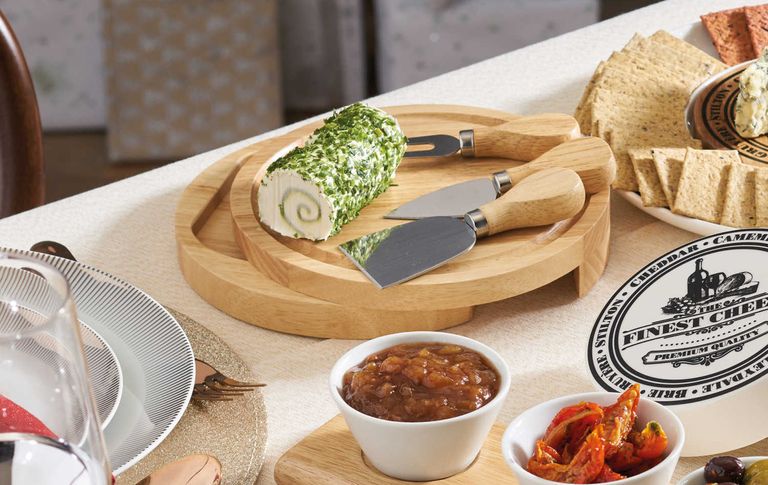 (Image credit: Aldi)
Christmas is finally upon us.
The season we wait for all year long because we can't wait to catch up with and spend time with our loved ones and obviously give (and receive) thoughtful gifts.
But if we're being honest, it's mostly because we have the all-clear to fill up on all of our favourite foods.
And while we all spend the season gorging on mince pies and building up to the hotly-anticipated Christmas dinner (opens in new tab) that we're finally reunited with on 25th December, one of the most satisfying parts of Christmas day has to be digging into the festive cheese board.
Try Lidl's mulled wine cheese on this year's board. (opens in new tab)
And with Aldi's cheesy Christmas offering this year's cheese board will look better than ever before.
Always on hand with a good offer, the budget supermarket has released a snazzy cheese board complete with a set of serving tools so you can nibble on your favourite fromage in style.
The wooden cheese board has enough room to fit a few different wedges of cheese so you can throw on your brie, Stilton, Wensleydale and roule without a problem. And you might even be able to fit on your melting cheese fondue (opens in new tab).
You can then swivel the board to reveal a selection of cheese cutting tools underneath so that you don't have to worry about heading back to the kitchen to get a knife from the cutlery drawer – convenient!
The set contains a square cheese knife to slice soft cheese and cut the rind off hard wedges, a pointed knife to divide up cheese wheels and a cheese fork to hold the cheese blocks in place while you cut.
You can get the clever cheese board in Aldi stores across the country for only £8.99, but unfortunately it's one of those Specialbuys that aren't available to buy online.
It's on sale now but be quick, like any loyal Aldi shopper will know, once the Specialbuys are gone they're gone!
Aleesha Badkar is a lifestyle writer who specialises in health, beauty - and the royals. After completing her MA in Magazine Journalism at the City, the University of London in 2017, she interned at Women's Health, Stylist, and Harper's Bazaar, creating features and news pieces on health, beauty, and fitness, wellbeing, and food. She loves to practice what she preaches in her everyday life with copious amounts of herbal tea, Pilates, and hyaluronic acid.