Aldi launch cheese-filled sausages that are perfect for BBQs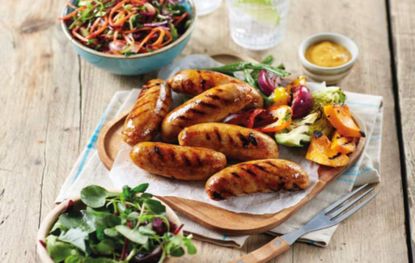 If you find yourself putting cheese on just about everything, then Aldi's newest addition will be right up your street.
The budget supermarket has launched a genius mash-up of meat and cheese by creating cheese stuffed sausages. We never knew we needed that until now!
From 15th August, shoppers will be able to pick up a pack of six pork sausages for £1.89. They're filled with classic cheese Red Leicester, known for its sweet mellow flavour and vibrant orange colour.
Aldi's cheese-filled sausages might divide customers, perhaps making it the latest 'Marmite food' on our shelves. But the supermarket definitely isn't the only one selling them.
Over in Germany and Austria, locals eat käsekrainer sausages that are filled with hot, oozing cheese. Is it tasty or disgusting? You decide!
The sausages would be ideal in a hot dog bun after being grilled to perfection on a BBQ. You wouldn't even have to add any condiments either, as the melted cheese would do the job perfectly.
We've got some great BBQ ideas (opens in new tab) if you're planning on hosting one, whether or not the cheese sausages will feature on the menu!
Read more: Best and worst cheeses for your diet: The healthiest cheese on the shelves (opens in new tab)
If the cheese-filled sausages are a bit much for you, Aldi are also selling Salt and Chilli Pork Belly slices (£2.79) and Louisana Pork Riblets (£2.79) on the same day. So there's plenty of meat on offer to suit all appetites.
For those of you who fancy a delicious classic, Aldi's tomahawk steak (opens in new tab) launches on August 22nd as a Specialbuy, so keep an eye out for that!
Read more: Nando's is giving away free chicken this month – but there's a catch
Whatever you prefer to eat, Aldi has definitely got BBQ season covered with its range of affordable meats and even vegan burgers (opens in new tab) for those on a plant-based diet.
Time to book our next BBQ...
Will you be heading to your local supermarket to grab these deals? Head over to our Facebook page and let us know!