Aldi confirms the return of the Tomahawk steak - at an incredible price!
This is a Specialbuy for the steak-lovers out there!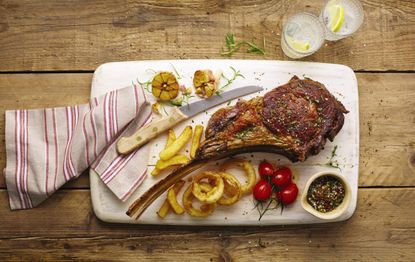 Aldi is no stranger to sending shoppers into a frenzy with its bargain buys and now they're bringing back the popular Tomahawk steak...
Whether it's Aldi Champagne (opens in new tab), gin (opens in new tab) or wine (opens in new tab) you love, there's no denying they've got a brilliant selection of cheap booze. (opens in new tab)
Shoppers also go wild for the supermarket's beauty buys and when news broke that there was a two box limit on halloumi fries last year, people nearly lost their minds!
The supermarket often re-stocks or brings back popular items to satisfy customer demand and the tomahawk steak is the latest example of this.
After telling The Sun that last year's deal would not be returning this year, the retailer has made a U-turn following this week's Lidl's announcement (opens in new tab) that they would were launching a similar deal.
However, we'll have a while to wait as it will only be available on August 22.
The Tomahawk steak is perfect for sharing with a large group of friends and would be delicious barbecued – weather permitting of course...
At just £12.99 per kilo Aldi's offering costs a fraction of its competitions like Waitrose who have a similar steak for nearly 50 per cent more.
It's also cheaper than Lidl's deal, which retails at £14.99 per kg after returning to shops yesterday.
The Tomahawk steak is a cut of Rib-Eye beef on the bone, which means when it cooks there is bucket loads of flavour without doing too much to it.
As with all of Aldi's Specialbuys, it'll be available while stocks last and once they're gone they're gone.
So if you want to get your hands on a steak or two, you better put the date in your calendar and head down to store as soon as they launch!
Have you tried Aldi's tomahawk steak before? Head over to our Facebook page and let us know your thoughts!
Jessica currently works as a Senior Food Writer at Future. She writes food and drink-related news stories and features, curates product pages, tests, and reviews equipment, and also develops recipes that she styles on food shoots. An enthusiastic, self-taught cook Jess adores eating out and sharing great food and drink with friends and family. She has completed the Level 1 Associate course at the Academy of Cheese and is continually building on her knowledge of beers, wines, and spirits.