Aldi is selling one of the world's most expensive steaks for a fraction of the usual price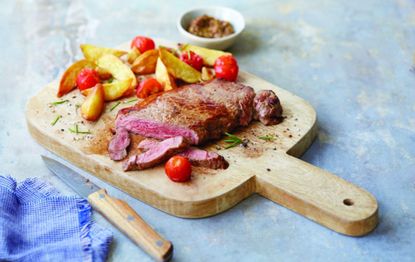 GoodTo newsletter
Sign up to the GoodTo Newsletter. You can unsubscribe at any time. For more information about how to do this, and how we hold your data, please see our privacy policy
Thank you for signing up to . You will receive a verification email shortly.
There was a problem. Please refresh the page and try again.
You better be quick if you want a cut! Price-slashing supermarket Aldi is bringing its Wagyu steak back into stores this week.
Last year meat-eaters went crazy when the luxury cut, inspired by Japanese Kobe Wagyu beef. Back then it was available for just £7.29, and although the price is slightly higher this year there's an extra treat in store (quite literally) for those who love a good steak.
While it's still on offer at less than £8, there's now also another cut to choose from.
Shoppers can buy either a sirloin or ribeye cut, so you can pick your sirloin if you prefer a leaner cut or the ribeye if you enjoy a fatty steak. And what's more, both options are being sold for the bargain price of £7.99 for 227 grams, an absolute steal in the fine-dining world.
The prized cut of meat is one of most expensive in the world, coveted for its tender, melt-in-the-mouth texture and bold flavour that comes from the marbled fat in the steak.
Usually, if you want to get your hands on a cut of quality Wagyu you're looking to spend a whole lot more than £7.99. In Japan their prices go up to a whopping £500 a kilo.
But the Aldi Specially Selected Wagyu Sirloin Steak and Specially Selected Wagyu Ribeye Steak comes with all the taste and less of the credit card debt. There is a catch though - the high-street favourite is selling the luxury steak as part of their Specialbuy range, which means once it's gone it really is gone.
So if you want five-star dining in your house this evening you'll have to rush down there to get your hands on a packet before it's all gone.
Serve it up with mash, gravy and steamed greens for a weekend treat for the kids, or make a romantic meal out of it with thin-cut chips, grilled veggies and, if you're feeling ambitious, a red wine sauce.
Dinner's about to go up a notch!