Aldi's six-litre bottle of prosecco goes on sale tomorrow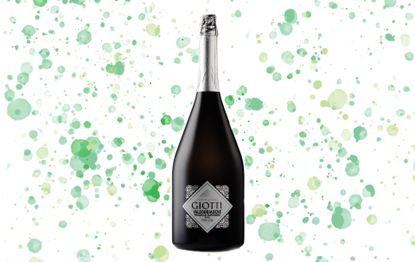 In the lead up to Christmas, nothing fills a glass better than bubbly prosecco.
And rather than pushing around an extra shopping trolley purely dedicated to crates of fizz, budget supermarket Aldi has stepped in with an alternative.
Last year it was a three-litre bottle, known as a jeroboam, that got us through the season. But this year, they've upped their game.
Aldi is fulfilling everyone's wishes with their new bottle of prosecco that holds, not just three, not even four or five, but six-litres!
The methuselah of Giotti Spumante Prosecco holds the equivalent of eight normal-sized bottles, which will give you a whopping 64 glasses and it goes on sale tomorrow (14 November) on Aldi's online wine store.
As well as saving you popping a new bottle every half an hour (or five minutes – we don't judge), it's also a treat for the tastebuds, with sweet, almost creamy, flavours of lemon zest, tangerine and pear.
Aldi have limited one methuselah of Giotti Spumante Prosecco per customer and they expect it to sell out extremely quickly so you had better be quick if you want to get your hands on one.
One bottle will get you 64 glasses of fizz!
It will only be available online, but a door-to-door delivery might be better than wrecking all your bags for life trying to make it fit.
If you want to keep things more low key but still want to drink all the prosecco, we have even better news. Aldi's three-litre jeroboam is also making a comeback so will also be available from the same date.
They are bringing back the (slightly) smaller bottle that was on sale last winter for those who don't want to go full-on supersize.
You can get about 36 glasses from it as it holds around four bottle's worth of the good stuff.
It comes in at £39.99, while the six-litre bottle is a reasonable £79.99, so neither will break the bank.
The only problem? Once you get the bottles home you may have an issue or two getting them into your fridge.
Get your hands on a big bucket and fill it with ice and water to keep the bubbles chilled. Sorted.
We know what's going to be on our Christmas list!
Aleesha Badkar is a lifestyle writer who specialises in health, beauty - and the royals. After completing her MA in Magazine Journalism at the City, the University of London in 2017, she interned at Women's Health, Stylist, and Harper's Bazaar, creating features and news pieces on health, beauty, and fitness, wellbeing, and food. She loves to practice what she preaches in her everyday life with copious amounts of herbal tea, Pilates, and hyaluronic acid.