ASDA introduce new range of All-American breakfast treats, including Lucky Charms and Fruit Loops
Asda's new product range will bring an American flavour to your breakfast time.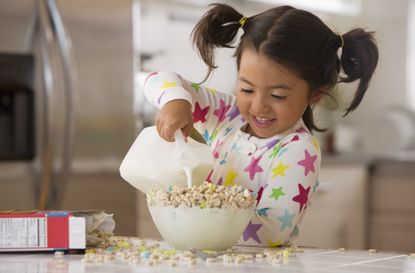 Asda's new product range will bring an American flavour to your breakfast time.
If you like to start your morning with something a little sweeter than a simple slice of toast, then you should definitely hit Asda's shopping aisles.
The supermarkets' new product range includes a range of American-style sweet cereals and easy to make pancakes mixes.
Most of us will recognise some of the items, including Lucky Charms, but if you're not familiar, the cereal consists of toasted oat pieces, jewelled with multi-coloured sugary marshmallows in various novelty shapes. Perhaps one saved for a weekend treat, rather an everyday staple!
Other cereals in the collection are Marshmallow Mateys; a very similar product to Lucky Charms, and Reese's Puff, these are chocolate and peanut butter corn puffs inspired by Reese's peanut butter cups.
You can also buy Kellogg's Fruit Loops, recognisable by their bright mix of colours. These types of cereals have gained somewhat of a cult following over the years.
Thanks to movies in the 80's and 90's where these products were featured, they have been in-demand by UK consumers for decades. We are now seeing a resurgence for American nostalgia with hit shows like Stranger Things; bringing 80's Americana into modern UK homes.
Jamie McMillan, Category Planner at Asda has commented, saying:
"If you're looking for a weekend breakfast treat, then try our new American-themed products. Whether it's a deliciously fluffy pancake, or iconic Lucky Charms, there's plenty of options to hit the spot."
"We're excited to have some iconic products from across the pond on our shelves, sitting alongside our very own American-inspired products. We're sure they'll be a big hit with our customers!"
So whether you want a tall stack of fluffy pancakes, or a bowl of iconic cereal, Asda sure have something that should hit the spot.
Products are available now in selected stores; check your local supermarket for stock.
Not sticking to cereals alone, Asda has also developed their own versions of 'just add water' pancake mixes. Simply shake and pour directly from the bottle.
Pancakes have never been so easy!
With over 12 years of experience, arts graduate Keiron turned to food to channel his creativity, specifically cake decorating. Keiron set up his wedding cake business in 2015. And, in late 2016 won a scholarship at the world-renowned culinary institute - Le Cordon Bleu, London, where he studied the art of French Pâtisserie. He's worked in some of London's finest 5-star hotels, collecting a wealth of knowledge along the way. As a Food Writer and Stylist food isn't just a job, it truly is Keiron's passion.