Batch Lady: The GENIUS meal planning and batch cooking method you need to know about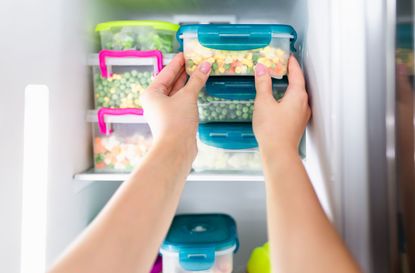 The Batch Lady is becoming more and more popular with people all around the country (especially mums!) who are desperate to save time and money when it comes to cooking for their families. Here's the secret behind her popularity...
If you ever attempted to plan a week's worth of meals, whether it was to save time or money (or both), you know how hard it can be and how boring it can get.
Well, that's about to change thanks to the Batch Lady, who's said to be taking batch cooking to a whole new level. Here's what you need to know...
Who is the Batch Lady?
Suzanne 'The Batch Lady' Mulholland, 43, is a mum-of-two from Selkirk. She lives on a farm on the Scottish Borders, which is a 30 minute drive from the nearest supermarket.
She started meal-planning and doing her unusual batch cooking as she tried to juggle family life with running the family's holiday cottage business, and then the word spread when she shared her tips online.
Just over a year after she started, the mum already has a combined 60,000 followers across her social media channels on YouTube, Facebook, Pinterest and Instagram, and has even started doing live cooking demonstrations for her fans.
Her method is different to others as she can cook 10 different meals in an hour, which are then distributed into bags - rather than containers - and flattened so that she can fit more into freezer.
She describes her method on her website: 'Following the Batch Lady's method will show you how to make fast, simple, homemade, portion controlled meals, that can be prepared in under 10 minutes, then frozen for whenever you need them. If you want to save time and money, get healthy, organised and in control of your weekly meals, then this is the method for you.'
https://www.facebook.com/thebatchlady/posts/2546068058798676
Batch Lady recipes
The Batch Lady often shares recipe videos on her YouTube channel and her website, as well as the meal planner for the week so followers of her method have a meal plan for the week.
As she tries to cook several meals at the same time in under an hour, the recipes tend to be paired back and use the same ingredients to make the process quicker - and cheaper! So for example, on one Sunday (the day she recommends for batch cooking) she could make 10 meals - 40 portions - using chicken. As you freeze these using her bag method, it doesn't mean you're eating chicken everyday for a week and you can mix and match.
Some examples of her delicious recipes include stuffed sweet potatoes, Harrisa chicken traybake, and the classic Shepherd's pie.
RELATED: Recipes to make in bulk and freeze
Batch Lady's meal planning tips
Suzanne's genius method promises to save you time and money - as well as being healthier for your family as you're still cooking from scratch rather than buying takeaways - but she also has other money and time-saving tips you can apply in the kitchen.
Buy more frozen products
The fact that buying frozen foods will save you money shouldn't come as news to anyone by now, but you could be surprised by the extent to which you could apply this to.
One food Suzanne recommends buying frozen is avocado - yes, really! She says: 'Oh frozen avocado chunks back in Tesco, love these for making avocado on toast and easy guacamole. Saves so much waste and don't need to wait until ripe!'
Use a meal board
https://www.facebook.com/thebatchlady/photos/a.1738461532892670/2623998001005681/
The Batch Lady's wooden meal board will be well-known among her fans, as that's how she shares the meal planning for the week. The mum recommends getting one so you can see the meals you're planning to make everyday of the week: 'A super board that I use everyday.'
Watch out for freezer bags sticking together
https://www.facebook.com/thebatchlady/videos/315259722508117/?v=315259722508117
One of the problems with Suzanne's method is that when you go to freeze quite a few bags of food at the same time, they might get stuck to each other - making it hard to take just the one you want out to defrost.
What she advises is that you freeze one at a time instead of putting them all in the freezer together. While one is in the freezer, keep the others in the fridge and keep adding them every hour or so - genius!
Did you know about the Batch Lady? Have you followed her method? Head over to our Facebook page and let us know your thoughts!
Mariana is a lifestyle writer who has written for Goodto.com and My Imperfect Life. She joined the Goodto.com team as an intern after completing her journalism MA at City University. After six months spent writing about food, celebrity news, and family trends, Mariana left to write for Healthy Food magazine - but returned in 2017, to join the Future team once again. In her spare time, you'll find Mariana in the kitchen cooking for her friends.