The Big Family Cooking Showdown: Everything you need to know about the BBC's new food show
The presenters and judges have been announced!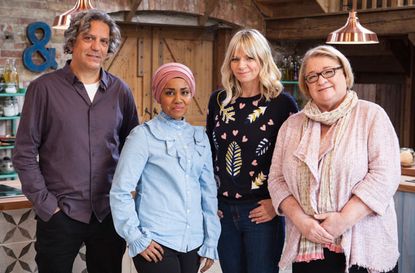 The Big Family Cooking Showdown, will return for a second series but without Great British Bake Off (opens in new tab) winner Nadiya Hussain who has quit the show.
The Big Family Cooking Showdown is a competitive food show featuring 16 families from across Britain.
The first series was fronted by Nadiya (opens in new tab) and TV presenter Zoe Ball, however the hosts for series two are not yet confirmed.
In a bid to find the nation's best family of cooks, the judges set challenges for the families over 12 one-hour episodes.
Who are The Big Family Cooking Showdown presenters?
Image: BBC
Nadiya Hussain was one of the The Big Family Cooking Showdown presenters for the first series. It was her third BBC show, including Nadiya's British Food Adventure (opens in new tab), since winning the Bake Off in 2015.
'Family and food have always gone hand in hand and I'm looking forward to getting to know the recipes and traditions of the different families taking part', Nadiya said ahead of the show's debut last year.
'Having been through a food competition as an amateur cook myself, I know exactly how tough it can get and so I'll be there for them, alongside Zoe, as the pressure really builds!'
Zoe Ball, who presents Strictly Come Dancing: It Takes Two, was Nadiya's fellow presenter on the show.
Zoe Ball, who was a Strictly contestant in 2015, will be presenting the new BBC TV show, alongside Nadiya
Speaking ahead of series one she said: 'It's time to celebrate passionate foodie families all over the country and this series will show us home cooking at its best, even if it's using old pans and mismatched crockery!'
'We're meeting 16 very different families over the course of the show and witnessing their team dynamics. I'm not the world's best cook as my kids will vouch but I'm learning so much from these families and from Nadiya! New recipes, top tips, some definite do's and don'ts, I can't wait to share this joyous celebration of family and cooking with everybody.'
The hosts for series two have not yet been confirmed.
Who are The Big Family Cooking Showdown participants series one?
The show tests 16 families from around the UK, who will have to show off their cooking skills for a chance to win.
One of the families that entered the competition last year was the Bellamy family, from Bournemouth, who were led by 48-year-old mum Mojgan. She competed with the show's youngest contestants, daughters Ocean, 19, and Faith, 15. Ahead of the show Mojgan revealed she 'always cooks in heels'.
Image: BBC
Mojgan competed with her two daughters for the Bellamy family
With Caribbean (opens in new tab) roots, The Codougans from Northamptonshire whipped up traditional recipes that have been passed on in the family, while Essex's Hilliard family, focussed on vegan recipes. The family became vegan after one of the daughters, now 34, was diagnosed with cancer aged 23 and used the diet to help treat the condition.
Siblings Charlie and Archie competed with their sister-in-law Anna for the Herberts, and in Wiltshire, the Massaccesi family brought some international flavour with the help of Irish mum Teresa and Italian dad Giordano.
Gay couple Sam, 37, and David, 46, competed withDavid's 17-year-old daughter Ellie. The family provided lots of kitchen envy as they revealed: 'We've got three stoves, eleven ranges and probably every gadget and gizmo under the sun'.
Swedish grandmother Torun, 86, was The Big Family Cooking Showdown's eldest contestant and competed for the Marks, while African family the Rignalls was led by 65-year-old Jassi.
Image: BBC
Grandmother Torun is the show's eldest contestant
Dad Mahmoud Ayoubis, who moved to Essex from Syria in the nineties showed off his Arabic recipes with the help of daughters Mirna, 26, and Lydia, 21.
Moroccan influences (opens in new tab) were also present thanks to Zakila Karim, 48, who competed with her 18-year-old niece Sumiya who loves making Korean food.
Who are The Big Family Cooking Showdown judges?
Image: BBC
For the first series, the competing families welcomed Nadiya, Zoe and judges Giorgio Locatelli and Rosemary Shrager, two renowned chefs, into their homes. They had to cook them dishes using their favourite family recipes. The show will follow a similar format this year but the judges have not yet been confirmed.
Ahead of series one, Italian chef Giorgio Locatelli said it was an honour to be welcomed into people's homes to taste their family dishes.
'I strongly believe that cooking at home is at the base of healthy family relationships. For Rosemary and I to be given the opportunity to taste people's family dishes within their home is such an honour.
'I am looking forward to exploring people's heritage through the dishes they prepare', Giorgio said.
Rosemary Shrager, who's been a judge on Soapstar Superchef and appeared on reality television programme Ladette to Lady, was also excited to be part of the BBC's project.
'It's wonderful to be meeting families with their own recipes and to be judging good honest family food. I'm hoping to be inspired and surprised by the dishes these families cook at home to put a smile on each other's faces', the chef said.
This will be Nadiya's third BBC TV show since winning the Bake Off in 2015
How will The Big Family Cooking Showdown work?
The BBC show has a real family feel, as most challenges will be undertaken from the participants' own homes - but that doesn't mean the pressure won't be on.
In the first series, the first task challenged the families to feed four people in 75 minutes with a budget of £10. The second test involved cooking a main course and a dessert in their own kitchen in 90 minutes.
For the final challenge, the groups had 135 minutes to cook a prepare a starter and a main course for their neighbours.
The set up for series two has not yet been confirmed.
When will The Big Family Cooking Showdown air?
The air date for series two has not be confirmed.