We earn a commission for products purchased through some links in this article.
Great British Bake Off star Nadiya Hussain is finally returning to our screens with a new cookery show, Nadiya's British Food Adventure, the BBC has announced.
Two years after she won Great British Bake Off (and our hearts), Nadiya is back with a new BBC show that will surely make everyone fall in love with her all over again.
The news were announced by the BBC on their website, and the Bake Off winner took to social media to show her excitement about her new TV show and thanked fans for their support.
'Yes yes yes !!! I too am excited … cannot wait … thanks for the support xx', she wrote on her official Twitter account.
As well as presenting Nadiya's British Food Adventure, the TV chef is also continuing her foray into publishing as a cookery author. Sharing the same name as the TV show, Nadiya's fourth cookbook – which is available July 13th – promises '120 fresh, easy and enticing new recipes'.
What will Nadiya's British Food Adventure be about?
Nadiya's new TV programme will be an eight-part series, featuring her journey throughout the UK seeking great examples of British food.
In Nadiya's British Food Adventure, viewers will see the baking star undertake a road trip around the country visiting different regions, from the Scottish Highlands to Devon and Dorset, and finding out more about the best delicacies of British cuisine.
Speaking to the BBC, Nadiya said: 'Our country's regional cuisine is much more than tried and tested traditional dishes – there are quirky and clever food producers out there who are reinventing British food in unique and exciting ways.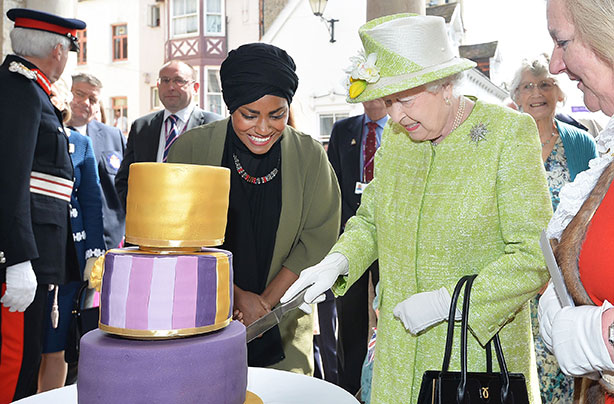 Nadiya with the Queen after she was commissioned to bake a special birthday cake for her
'I can't wait to meet these local food heroes, to find inspiration in the most unusual food stories and unlikely ingredients and then come up with some brand new recipes in the kitchen, adding my own special twist.' Fifteen million people tuned in to see Nadiya win Bake Off in 2015
Who is Nadiya Hussain?
Nadiya Hussain first captured the nation's hearts during her journey on Bake Off in 2015, which she went on to win.
She's since presented The Chronicles of Nadiya, where she featured in a two-part series that saw her exploring her culinary roots in Bangladesh, which aired last year.
She was rumoured to be Mary Berry's replacement as the new judge for GBBO 2017, but rumours were put to bed when the BBC announced Nadiya had chosen to make the channel her new 'home'.
'I believe that making it my home gives me the scope to work across such a unique range of diverse and interesting projects. I'm delighted to announce that I will continue making films for The One Show, as well as developing other exciting programme ideas', Nadiya said back in October, when the news was announced.
'I never thought this would happen, but it is and I have to admit, I'm going to embrace it.'
What recipes will Nadiya be whipping up on Nadiya's British Food Adventure? On her new show, Nadiya will be reinventing British classics that reflect the diversity of today's Britain. Some of the recipes in her book include spiced bean and banger stew, lamb Bhuna with garlic naan and star anise chicken wings with chunky chips.
And for dessert? It will be all about classic puds with a modern twist like rosemary banoffee pie and Eton mess cheesecake.
When does Nadiya's British Food Adventure air?
The show will premiere Monday 17th July at 8.30pm on BBC2, and it will run for eight weeks.
Will you be watching Nadiya's British Food Adventure? Let us know in the comments!