B&M launches cheapest EVER meal deal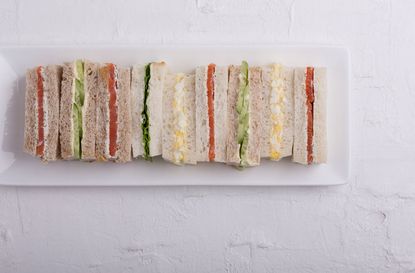 (Image credit: Getty Images)
B&M has launched a new meal deal and it comes at a jaw-dropping price.
You thought that Boots was your best for pre-payday lunchtimes? Well bargain store B&M is giving you a new lunchtime choice to help you stretch your bank account through the last few lunch breaks of the month.
From now on when you pop into the high-street bargain haven, you'll be able to get your hands on a lunchtime meal deal, which includes a sandwich, a drink and a snack - for only £1.75!
And if you thought you'd be limited in your choices, think again, because there is an array of popular sandwich fillings to choose from. Pick from ham; cheese; cheese and mayonnaise; tuna and mayonnaise; onion and mayonnaise; chicken and bacon and mayonnaise.
You can then add to your purchase a bottle of water or a bottle of fizzy drink (opens in new tab), including low sugar drinks, and then a packet of Walkers or Quavers.
Always good for savvy shoppers, the discount store has been ahead of the game recently with a host of other exciting purse-friendly deals.
https://www.facebook.com/bmstores/videos/328761301020852/?__xts__[0]=68.ARB27zC_WXXAr99NLRSlM9ShaPalTckHCl-MvnCiVNuAKYTDUcx1Vfb7993fZCxORQfDtGClEHuA9WWTYAtx4ef6eRa3G9eNNUDGmq_tqZD9ac1KjkwYzeJD2GvQT9LKTf_lOJCHIb9gv0aQj3AUxOZA850z6U5s4INW62YoceJKGnYJlwDM2ZBg_pROR5pprKEmFQ5NWisvNQyFZFo4FHiFl7f_DxoqDrYBwSE&__tn__=-R
For mums and cheap perfume (opens in new tab) seekers they had five different scents of the popular Victoria's Secret Fragrance Mists on sale (opens in new tab) for only £7.99 each. And with an original RRP of around £12 that's a massive 33 per cent saving on each bottle!
And that's not the only treat for mums that the discount retailer has been selling recently.
To help make chores fun in your house and get the kids to help out, the high-street store are selling a laundry basket designed like a basketball hoop (opens in new tab), so the kids can slam dunk their dirty clothes rather than adorning your clean carpet with smelly socks.
And for little angels who have just come along, B&M are selling a 'Born in 2018' five-piece baby set (opens in new tab).
Prefect for when you take cute pictures for your newborn's memory book!
Better get down there stat...
Aleesha Badkar is a lifestyle writer who specialises in health, beauty - and the royals. After completing her MA in Magazine Journalism at the City, the University of London in 2017, she interned at Women's Health, Stylist, and Harper's Bazaar, creating features and news pieces on health, beauty, and fitness, wellbeing, and food. She loves to practice what she preaches in her everyday life with copious amounts of herbal tea, Pilates, and hyaluronic acid.