20 best perfume dupes that smell just like designer scents
Love a beauty bargain as much as we do? These perfume dupes that smell just like designer scents will blow your mind!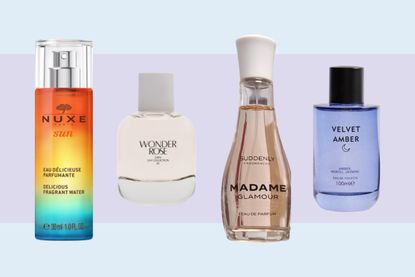 (Image credit: Future)
The best perfume dupes won't make you miss your favourite designer fragrance - and we've rounded up 20 options that give the likes of Chanel and Jo Malone a run for their money.
We've all got a go-to fragrance or two, with many of us opting for one of the best perfumes of all time as a dressing table staple. But fragrance is a luxury and many popular scents carry a hefty price tag, so when it comes to getting a replacement you might be considering seeking out a more affordable option. It's not always easy, however, and finding the perfect perfume dupe can be a difficult job, as the difference between cheap and expensive perfumes isn't always obvious, and cheaper options aren't usually the best long-lasting perfumes.
That's why we've done some digging and made your life easier by finding the very best fragrance dupes from high street stores and other online retailers, which smell just like designer brands. You can pick one up for over half the cost of the original - without any compromises on the sumptuous scent.
20 perfume dupes that smell like designer scents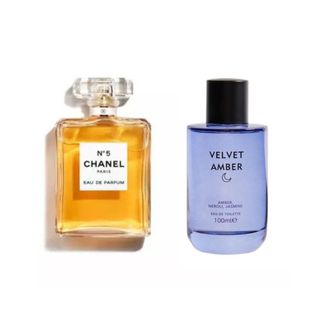 1. Velvet Amber Eau De Toilette
Best perfume dupe for Chanel No.5
Notes: Neroli, White Flowers, Amber
Emulating the iconic perfume that sits on the dressing tables of women the world over, Marks and Spencer's newest Velvet Amber fragrance is made up of notes has a rich scent just like its inspiration, and blends top notes of neroli with bold white to give it the classic womanly fragrance.
A little lighter than the original, it's also a hell of a lot cheaper too, at just £10 for 100ml. So, if you're looking for a budget version of one of the world's most popular perfume, this M&S buy has you covered.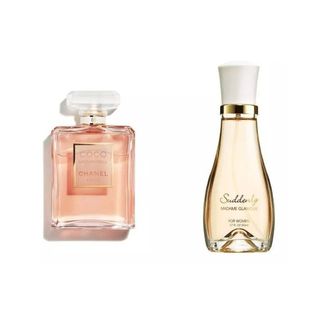 2. Suddenly Madame Glamour
Best perfume dupe for Chanel Coco Mademoiselle
Notes: Bergamot, Jasmine, Citrus
Everybody loves a bit of Chanel and one of the brand's most iconic fragrances has to be Coco Mademoiselle. And Suddenly Madame Glamour is a bargain perfume dupe that many scent obsessives have claimed smells exactly the same as the iconic fragrance, sharing notes of patchouli, tonka bean, vetiver, rose ylang-ylang and more with the Chanel favourite.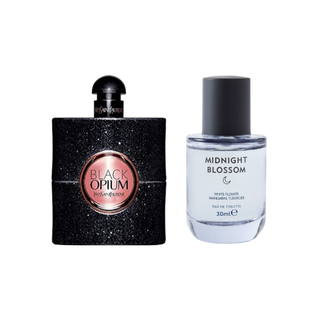 3. Lovali Black Addiction
Best perfume dupe for Yves Saint Laurent Black Opium
Notes: Jasmine, Tuberose, Amber
M&S is a winner when it comes to dupes of some of the most iconic designer fragrances, and YSL's Black Opium is no exception. It was the seventh most Googled fragrance worldwide in 2022, but you can smell the same for over £100 less thanks to M&S' MIdnight Blossom.
Both share notes of white flowers with musky undertones, but Midnight Blossom lacks the vanilla fragrance you'll find in Black Opium. This makes it slightly less sweet than the designer version, but we still think it's a great dupe.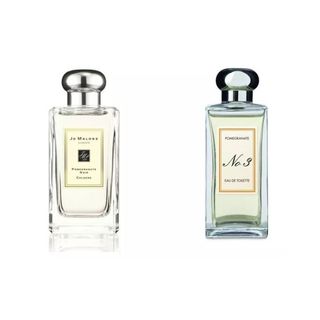 4. Hotel Collection No3 Pomegranate
Best perfume dupe for Jo Malone Pomegranate Noir
Notes: Raspberry, Pomegranate, Lily of the Valley, Jasmine, Rose, Pink Pepper, Musk, Amber
If you're a fan of Jo Malone fragrances but not of their steep prices and are looking for cheap perfumes instead, you might want to check out this Aldi Luxury Eau De Toilette.
They launched three scents including Lime, Basil & Madarian and Freesia & Pear, but it's the Pomegranate that's said to be inspired by Jo Malone's Pomegrante Noir Cologne. Whilst it sold out online and instore, we've spotted the scent available at Amazon for under £20 still...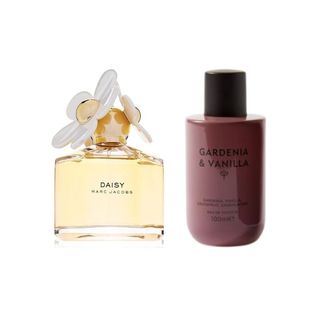 5. M&S Gardenia & Vanilla
Best perfume dupe for Marc Jacobs Daisy
Notes: Vanilla, Sandalwood, Gardenia, Grapefruit
Marc Jacobs' Daisy fragrance has become a modern icon, rivalling the likes of Chanel and Jo Malone favourites. But M&S has really come through with the perfume dupes (as you can probably tell from this roundup!) and fans say Gardenia & Vanilla smells just like the designer scent - for a fifth of the price!
The pair share base notes of sandalwood along with a floral scent. As one reviewer put it, "Lovely perfume, very similar to Marc Jacobs Daisy but a much better price."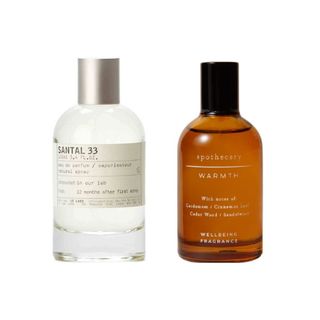 Best perfume dupe for Le Labo Santal 33
Notes: Cardamom, Cinnamon, Cedarwood, Sandalwood
So much cheaper but just as delicious smelling, Apothecary Warmth shares notes of cardamom, cedarwood and sandalwood with Le Labo's Santal 33.
These unisex scents are both rich and spicy, one is a whopping £158 cheaper. Le Labo may have become a cult favourite - with celeb fans including Alexa Chung, Jodie Comer and Ryan Reynolds - but the M&S version will be the one making it onto our wish list.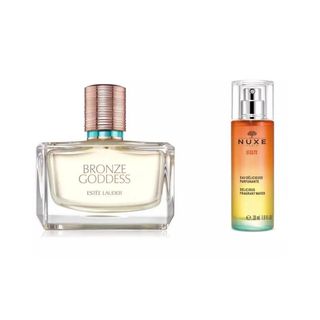 7. NUXE Sun Fragrant Water
Best perfume dupe for Estée Lauder Bronze Goddess
Notes: Sweet Orange, Petitgrain, Coconut, Tiare Flower, Vanilla, Musk
This gorgeous summer scent will have you feeling as if you're on the beach, even if you only make it to the back garden. Expect sweet notes of orange, while coconut and tiare flowers add accords of sensuality, while vanilla and musk create a heady finish.
It's a scent that's reminiscent of Estée Lauder's Bronze Goddess, which also mixes Coconut, Vanilla and Orange to evoke balmy summer evenings.
Best perfume dupe for Chloe Eau de Toilette
Notes: Jasmine, Orange Flower, Rose, Musk
The packaging of these two light, feminine scents is very different, but inside the bottle, the smell is remarkably similar - clean and very wearable with musky and floral notes - and both are an ideal holiday perfume.
Not only does this Milton Lloyd perfume make a great designer perfume dupe, it comes at a fraction of the price, saving scent lovers as much as £60.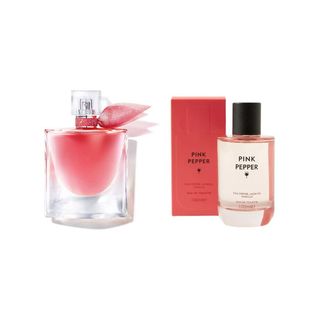 Best perfume dupe for Lancome La Vie Est Belle
Notes: Orange Blossom, Pink Pepper, Jasmine, Patchouli, Vanilla, Amber, Musk
This bargain fragrance from M&S has been compared to Lancome's best-selling La Vie Est Belle thanks to its notes of orange blossom and jasmine. Both fragrances boast a fresh and uplifting scent that's floral but still packs a punch, as well as coming in a charming shade of pink.
And with one 100ml bottle of M&S' Pink Pepper costing just £10, shoppers of this fragrance are saving over £110 pounds on the retail price of the Lancome scent.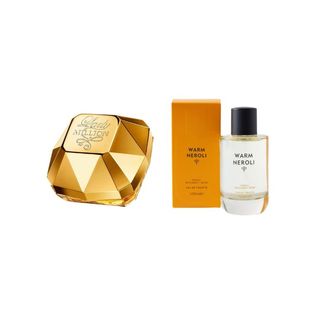 Best perfume dupe for Paco Rabanne Lady Million
Notes: Neroli, Bergamot, Musk
These two fragrances have base notes of - you guessed it - neroli, as well as citrus scents. It's a warming scent that surrounds you, and the original fragrance is known to many, and famous for its gold diamond bottle.
While this dupe comes in much simpler packaging, it smells very similar for just £10 per 100ml.