27 perfume dupes that smell just like designer scents
Love a beauty bargain as much as we do? These cheap perfumes that smell just like designer scents will blow your mind!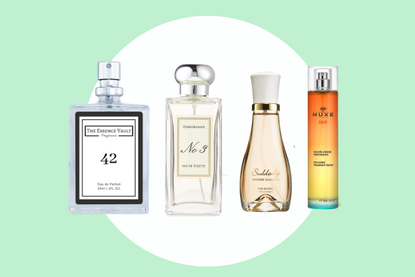 Perfume dupes are a great way to revolutionise your fragrance-buying habits.
These fragrance dupes smell exactly like the real thing but often come at more than half the cost - without any comprises on the scent or having to wait around for those annual Black Friday perfume deals (opens in new tab).
But finding the perfect perfume dupe, where the difference between the cheap and expensive perfume (opens in new tab) one isn't obvious, can be difficult. We've done some digging and found the very best fragrance dupes from high street favourites like Zara and Aldi, which smell just like the designer brands, including the best perfumes of all time.
27 perfume dupes that smell like designer scents
Why you can trust GoodTo Our expert reviewers spend hours testing and comparing products and services so you can choose the best for you. Find out more about how we test.
There are cheap perfume dupes on sale for the likes of Chanel, Jo Malone, Chloé, Dior, Marc Jacobs and more for a reason. You will not believe how similar these dupes can be, considering they smell very similar and cost much less.
1. Marc Jacobs Daisy
Avon Eve Truth, £14
Buy the original: Marc Jacobs Daisy 50ml - BOOTS | £58 (opens in new tab) Best perfume dupe: Avon Eve Truth 50ml - AVON | £14 (opens in new tab)
Marc Jacobs' Daisy fragrance has become a modern icon, rivalling the likes of Chanel and Jo Malone favourites. But now beauty service Avon has come out with their own fragrance dupe and it smells exactly like it - for a quarter of the price.
Mixed by renowned French perfumer Laurent Le Guernec, who actually worked with Marc Jacobs to create their scent Splash Rain, the fragrance features notes of amber, gardenia, peony, and cedarwood for deep but feminine scent.
2. Chanel Coco Mademoiselle
Buy the original: Chanel Coco Mademoiselle 50ml - BOOTS | £86 (opens in new tab) Buy the dupe: Suddenly Madame Glamour - AMAZON | £19 (opens in new tab)
Everybody loves a bit of Chanel and one of the brand's most iconic fragrances has to be the Coco Mademoiselle.
With its blend of citrusy notes that open up into sweet florals and deep musks the spritz has become a cult classic.
And now bargain supermarket Lidl is selling a bottle that customers claim smells exactly the same as the French perfume house's version - Lidl is full of brilliant perfume dupes.
Suddenly Madame Glamour uses a number of the same notes including, patchouli, tonka bean, vetiver, rose ylang-ylang and a number of citrusses to give the same feminine aroma as the Chanel favourite.
3. Hugo Boss Red Red
Smells like: Hugo Boss Deep Red 90ml - BOOTS | £48 (opens in new tab) Best perfume dupe: Marks and Spencer True Red Eau de Toilette - M&S | £12.50 (opens in new tab)
So much cheaper but just as orangey and earthy - even the name sounds the same!
These spicy scents are very much night-time perfumes - the slimmer M&S bottle is the ideal size for popping in your handbag.
4. Estee Lauder Bronze Goddess
Buy the original: Estée Lauder Bronze Goddess 50ml - LOOKFANTASTIC | £48 (opens in new tab) Best perfume dupe: NUXE Sun Fragrant Water 30ml - LOOKFANTASTIC | £12.50 (opens in new tab)
This gorgeous summer scent will have you feeling as if you're on the beach, even if you only make it to the back garden. Expect sweet notes of orange, while coconut and tiare flowers add accords of sensuality and vanilla and musk create a heady finish.
5. Georgio Armani Si
Buy the original: Georgio Armani Sì 50ml - LOOK FANTASTIC | £57 (opens in new tab) Best perfume dupe: Inpired by Si - THE ESSENCE VAULT| £14.95 (opens in new tab)
The Essence Vault has some incredible cheap perfume dupes but this is one of our favourites. With top notes of cassis, middle notes of rose and base notes of vanilla and patcholi, it's very similar to the scent of Giorgio Armani's famous Sì perfume.
It's just under £25 for 100ml, so a huge saving compared to the £81 price tag on the original perfume.
6. Chanel No 5
Buy the original: Chanel No5 50ml - JOHN LEWIS | £86 (opens in new tab) Buy the dupes: Lacura 5th Element Eau De Toilette (Available in store)
As cheap perfumes go, this one is a winner.
Emulating the iconic perfume that sits on the dressing tables of women the world over, Aldi's newest fragrance is made up of notes of rose and jasmine like its inspiration, to give it the classic womanly scent that is instantly recognisable.
7. Yves Saint Laurent Black Opium