Cadbury and Heinz collaborate to launch Cadbury Crème Egg-flavoured mayonnaise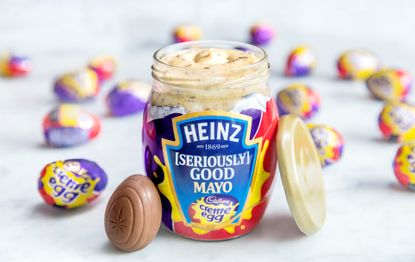 Cadbury and Heinz have joined forces to launch a rather questionable new spread.
The chocolate maestros have teamed up with the food processing company to release a Cadbury Crème Egg-flavoured mayonnaise. Yes – really.
While this may seem like an April Fool's joke, the new release is in fact very real and will be available for prospective fans to try this month.
Made using its original recipe, the Heinz (Seriously) Good Mayonnaise will be mixed with the iconic gooey fondant centre of the Cadbury's Crème Egg and then combined with the soft Cadbury chocolate from the egg's shell.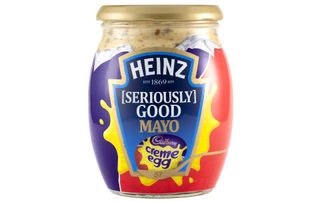 And while you may have thought that the odd creation may not taste right with anything under the sun, Heinz have suggested that you pair it with waffles or crumpets for a sweet and creamy treat.
Despite being easily mistaken for a joke as it was announced yesterday, which happened to be April Fool's day, this foodie creation is a real condiment that has actually been based on last year's April Fool's day joke.
READ MORE: Delicious Crème Egg recipes to try this Easter
Last year, Heinz teased that they were releasing a chocolate mayonnaise that could be used as a toast topping and in cakes, but it turned out to be a joke for the prankster day.
But the brand obviously thought that it was a stellar idea because now they've actually gone through with it.
https://vimeo.com/327533422
'In Heinz's 150th anniversary year, we want to take every opportunity to celebrate and Easter has always been one of our favourite times of the year,' said Heinz Brand Manager Martina Davis.
'So we set out to create the most Easter-y mayo we could. And who better to partner with than Cadbury Creme Egg - the kings and queens of Easter and another of the nation's most loved brands!
Read more: Cadbury has released a caramel spread and it's getting rave reviews
'We're delighted to launch the world's first-ever Creme Egg Mayo, just in time for Easter. And very happy to report that it's absolutely DELICIOUS. A real taste adventure. The only question we're asking ourselves is why we haven't done it sooner?!'
Raphael Capitani, Brand Manager at Cadbury Creme Egg, added: 'We're excited to finally announce our partnership with Heinz to create this gloriously gooey, crazy combination and dream collaboration for so many Cadbury Creme Egg lovers.
'We couldn't think of a better partner to make this spread. The surprising taste is so, so delicious!'
You can try the product for a limited time at the Heinz X Cadbury Pop Up, which will take place at London's Truman Brewery between 11th and 13th April.
So are you brave enough to give it a go? Head over to our Facebook page and let us know your thoughts!
Parenting advice, hot topics, best buys and family finance tips delivered straight to your inbox.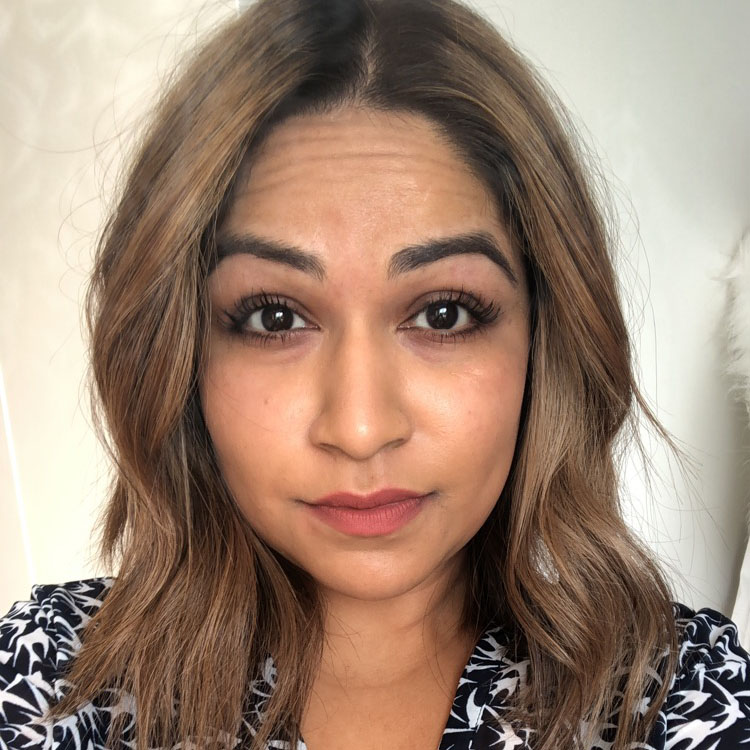 Aleesha Badkar is a lifestyle writer who specialises in health, beauty - and the royals. After completing her MA in Magazine Journalism at the City, the University of London in 2017, she interned at Women's Health, Stylist, and Harper's Bazaar, creating features and news pieces on health, beauty, and fitness, wellbeing, and food. She loves to practice what she preaches in her everyday life with copious amounts of herbal tea, Pilates, and hyaluronic acid.