Echo Falls has released a gin-infused rosé - and it won't leave you with a killer hangover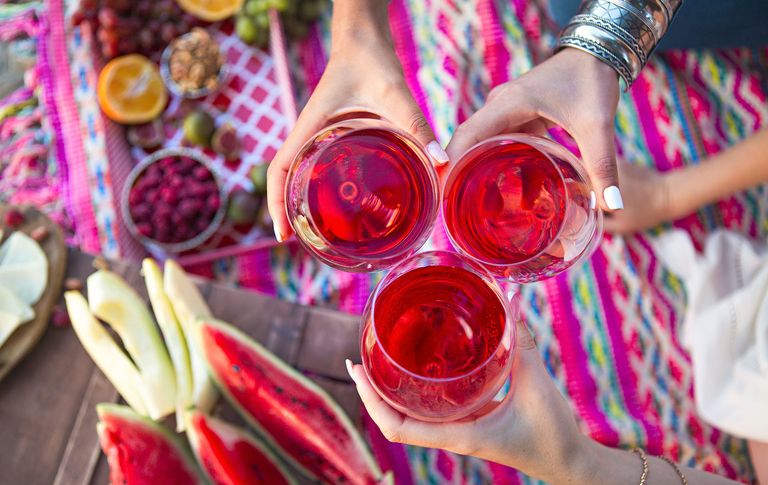 (Image credit: Getty)
We all love a good pink drink.
And while it might technically still be winter, that doesn't mean we're not for all the summery drinks.
And nothing says a refreshing summer drink like a delicious gin (opens in new tab) and tonic.
We've been missing the gin and tonics of last year's summer heatwave so much that we've even stocked up on gin and tonic sauce (opens in new tab) for next month's hotly anticipated Pancake Day (opens in new tab). Gin and pancakes – does it really get any better?
Read more: Pancake Day 2019: 8 new pancake ideas to try (opens in new tab)
Well believe it or not, but it actually does.
Classic summer wine favourite Echo Falls has released a new mix that combines refreshing gin with our other sunny tipple of choice – rosé wine.
The brand took to social media to reveal their new Rosé Wine & Gin Fusion that is flavoured with fruity strawberry and raspberry natural flavours.
Alongside a sunshine-packed picture of their sweet tipple, the brand wrote on their Instagram page: 'A match made in heaven! ❤ We've taken our fruity rosé and infused it with gin, to give you an early taste of summer!'
Social media users went crazy over the news, especially on the company's Facebook page where the same post has received nearly 10,000, almost 12,000 shares and over 41,000 comments only a day and a half after the brand uploaded it.
'I need this,' wrote one Facebook user. 'Gin & Rose wine my faves'.
'Omg I soo need this in my life,' commented another user, while another added: 'Would love to try this one'.
And possibly the even better news? It has an ABV of only 9 per cent, which is even lower than a standard glass of wine.
So that means we can sip on a few glasses of the sweet stuff without waking up with the unwelcome throbbing head in the morning.
You can get the tipsy beverage exclusively in Co-op stores for only £5 for a 75cl bottle.
We know where we're headed this weekend. Let's hope the sun makes an appearance too!
Aleesha Badkar is a lifestyle writer who specialises in health, beauty - and the royals. After completing her MA in Magazine Journalism at the City, the University of London in 2017, she interned at Women's Health, Stylist, and Harper's Bazaar, creating features and news pieces on health, beauty, and fitness, wellbeing, and food. She loves to practice what she preaches in her everyday life with copious amounts of herbal tea, Pilates, and hyaluronic acid.