Greggs £1 vegan sausage roll will now be available in all branches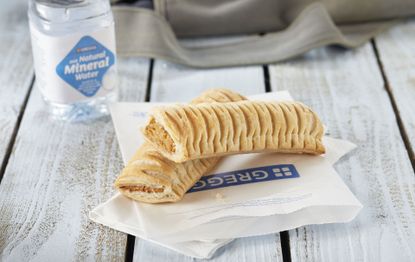 (Image credit: Greggs)
Back in January, everyone's favourite bakery chain kicked off the New Year in style.
They decided to go vegan. Well - not fully vegan of course.
But veganism has been on the up for the last few years, with charity Veganuary (opens in new tab) saying that the number of people trying a vegan lifestyle (at least in January) has grown by 183 per cent since 2014, and they predict that this year will be even bigger.
But giving up all your favourite meaty eats isn't easy, especially when you want a quick filling snack or something warm for a busy lunch.
So, bakery chain Greggs decided to give a helping hand and make it just that bit easier for you to resist the carnivore life.
They launched a vegan version of their bestselling product – the sausage roll.
The on-the-go lunch joint, which sells 1.5 million sausage rolls every week, introduced a Vegan Sausage Roll to give the country's 3.5 million vegans a tasty grab and go option.
The vegan-friendly offering was designed to emulate the bakery's iconic snack, with 96 layers of light and crispy puff pastry, but is filled with their own secret meat-free Quorn recipe.
Greggs say that they launched their new product after strong consumer demand, including last year's petition by animal rights organisation PETA that was signed by more than 20,000 people.
'Like many food retailers we have seen increasing demand for vegetarian and vegan products,' said Roger Whiteside, chief executive at Greggs.
'We have been trying to develop a Vegan version of our famous sausage roll for some time now. It has not been easy but our taste panel customers all love this one, so we have decided to launch it as our contribution to Veganuary.'
However, at the time, the new meat-free snack was only available in 950 selected branches, so not all of us could get a bite of the warming snack.
But with so much demand for the sausage-less roll, Greggs has decided to roll it out in every single branch across the country!
Each week they will introduce the roll into an additional 250 shops, until Friday 8th March when it will finally be in all of them.
If you can't wait to get your hands on the lunchtime eat, check out the eatery's Vegan Sausage Roll Locator (opens in new tab), which will let you know your nearest branch that stocks the plant-based bake, which you can get hold of for only £1.
And no need to worry for any meat-eaters out there, the original sausage roll will still be on sale too. Though you might not be able to tell the difference…
Aleesha Badkar is a lifestyle writer who specialises in health, beauty - and the royals. After completing her MA in Magazine Journalism at the City, the University of London in 2017, she interned at Women's Health, Stylist, and Harper's Bazaar, creating features and news pieces on health, beauty, and fitness, wellbeing, and food. She loves to practice what she preaches in her everyday life with copious amounts of herbal tea, Pilates, and hyaluronic acid.