How To Lose Weight Well receives backlash after promoting 'Cake for Breakfast' and McDonald's diet
'What an absolutely dreadful programme!'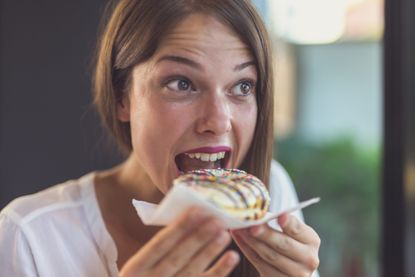 How To Lose Weight Well viewers took to Twitter to criticise the latest episode, which promoted the Cake for Breakfast and McDonald's Diet.
How To Lose Weight Well viewers couldn't believe the incredible results of the potato diet (opens in new tab) shown earlier this series, but they were less impressed with this week's crash diets.
In fact, several viewers took to Twitter to share their disappointment at the 'dreadful' messages the show was promoting around food and dieting.
How to Lose Weight Well presenter and cook Stacie Stewart preparing the cake for Sade's diet
The main criticism was focused around the Cake for Breakfast diet and the McDonald's diet.
On the Cake for Breakfast Diet followers eat a 600 calorie breakfast with 400 of those calories coming from your chosen cake, chocolate, ice cream or doughnut!
Lunch can be 500 calories, but dinner is a measly 300 calories.
The show's participant Sade, who followed the diet, was initially chuffed to be able to have cake for breakfast but ended the diet feeling tired and hungry during the experiment.
Sade (left) with her friend Becky (right) who tried the charcoal diet
She achieved some impressive results though and lost 10lbs over the two week diet.
Speaking about whether she would carry it on Sade revealed: 'I got sick of it, I'm not eating cake with breakfast anymore. I'm really looking forward to a bowl of cornflakes to be honest.'
Viewers also saw dieter Derek follow the McDonald's diet for 30 days. Although it sounds very indulgent, the fast food plan mostly consisted of the grilled chicken salad with the occasional plain burger and chicken nuggets.
He was chuffed to have lost 1st 3lbs on the diet but admitted that he often felt weak and hungry as on average he was only consuming 705 calories a day.
Although Derek and Sade both saw their weight drop, viewers of the show were disappointed about the message this was sending out.
One person wrote: '#howtoloseweightwell what a terrible programme promoting dreadful crash/fad diets! Cook healthy from scratch control calories'.
Another said: 'Not a fan of #howtoloseweightwell tonight. 'A big breakfast' does this mean big in terms of volume, big in terms of calories- surely there's a better what to achieve this than eating chocolate cake?'
A third added: '@Channel4 This programme is so wrong that I don't know where to begin 🤦🏽 ♀️ all the wrong messages! When are we going to learn that these extreme diets are temporary and offering nutritional education and knowledge is the only way #howtoloseweightwell'.
However, some viewers were delighted by the idea of having some of their favourite treats, while on a diet.
One person wrote: 'You had me at McDonald's diet', while another said: '10lbs by eating cake for brekkie?! Right that's tomorrow morning sorted then…'.
The show does warn that crash diets are often frowned upon and may not provide long lasting results.
Would you or have you tried any of the show's crash diets? Do you think you could manage the cake for breakfast diet? We'd certainly give it a go! Head over to our Facebook page to join the conversation…
Jessica currently works as a Senior Food Writer at Future. She writes food and drink-related news stories and features, curates product pages, tests, and reviews equipment, and also develops recipes that she styles on food shoots. An enthusiastic, self-taught cook Jess adores eating out and sharing great food and drink with friends and family. She has completed the Level 1 Associate course at the Academy of Cheese and is continually building on her knowledge of beers, wines, and spirits.