Iceland launches five items for £5 deal, featuring your favourite brands!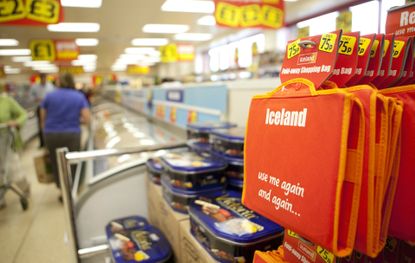 Iceland is letting customers pick five items for a fiver.
The supermarket's frozen food deal includes big brand favourites such as Greggs bakes, McCain Quick Chips, Aunt Bessie's Golden Yorkshire puddings and Birds Eye Fish Fingers.
A 14-pack bag of Bernard Matthews turkey dinosaurs can also be picked as a part of the deal for any parent, or regular adult, (we are not in a position to judge), who may be on the look out for something to give dinner time that little extra bit of pazazz.
Read more: Iceland is selling unicorn turkey nuggets to get your kids excited for dinner time (opens in new tab)
If you're looking to get the most out of your money, then make sure to pick up the most expensive items as part of the five-part combo offer. This could mean picking five £2 items - such as Iceland's 30 quick defrost profiteroles - rather than the cheaper ones to make an even bigger saving.
Right now there are as many as 22 items in total to choose from on Iceland's website, and here are some of our favourite products on offer:
Delicious items on offer also include Iceland Four Cheese Thin Pizza and a packet of 6 Green Bean and Carrot Bundles. With the addition of delicious Sticky Toffee Cheesecake, this deal provides options for main and side dishes, as well as desserts for the whole family to share.
Read more: Iceland expands their plant-based range by launching vegan pizzas (opens in new tab)
If you'd like to take the stress out of preparing weeknight dinners, then make some room in your freezer and grab some of these items to sort your family out for the next month.
Dinnertime can be super stressful when you have a load of mouths to feed, not to mention expensive too. So, give yourself a night off from making dinner form scratch with these super cheap frozen treats.
Freelance Lifestyle Writer
Niamh McCollum is a freelance lifestyle writer who has written for Future titles GoodTo and Marie Claire UK, plus the Irish Independent. The Dublin-based journalist specialises in stories
affecting families - from health updates, to the freshest parenting debates and celebrity announcements.