Iceland is selling unicorn turkey nuggets to get your kids excited for dinner time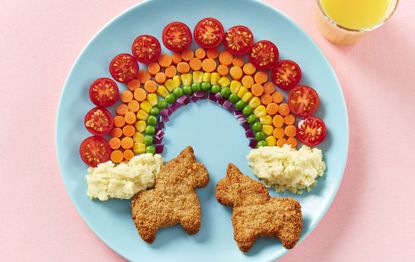 (Image credit: Iceland)
Getting your kids to eat their dinner is one of parents' biggest challenges.
And receiving an empty plate at the end of a meal? Practically impossible.
But that's why childhood dinners foods (opens in new tab) in weird and wonderful shapes were created – to make dinner time just that bit more entertaining and hopefully lead to fuller tummies and emptier plates.
Spaghetti hoops, pasta shapes, smiley faces and, of course, turkey dinosaurs. All childhood staples that make dinner time bearable.
But now, one supermarket is upping their game and releasing a new kids' eat that doesn't just make a fun dinner but will add a touch of magic to your little one's evening meal.
In response to the world's fascination with everything unicorn – toy, trinkets, cakes (opens in new tab), lattes and milk (opens in new tab) (yes…milk) – frozen food specialist Iceland is selling unicorn turkey nuggets.
Bernard Matthews, the company responsible for childhood icon dinosaur turkey nuggets, has released the mythical creature-shaped bites to offer kids another fantasy dinner option if they're not fans of the pre-historic creatures.
The Bernard Matthews Unicorn Turkey nuggets, which use the same recipe as the dinosaur version, are available in Iceland stores across the country and on their website for only £2 for a 420g bag, or you can get them on offer for two packs for £3.
They crispy coated turkey bites can be cooked in the oven straight from frozen and you can pair them with vegetable, salad and carbohydrate picks to make a quick evening meal for the little ones.
For an extra magical touch, Iceland suggests serving the mythical nuggets with mashed potatoes and broccoli, positioned on the dinner plate to look like clouds and trees.
And you could even make a colourful rainbow out of all your veg. Try using cherry tomatoes, carrots, sweetcorn, peas and a bit of chopped red onion - or if that's too strong maybe even a bit of beetroot.
Happy eating!