Iceland Slimming World range expands with nine new exclusive dishes
We can't wait to try these!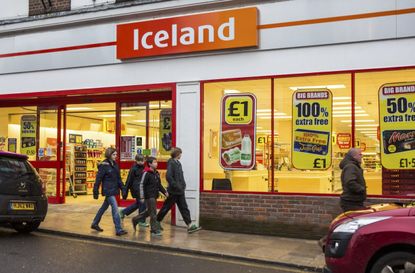 Iceland is bringing more comfort food to the freezers of the Slimming World community. They've launched nine new and exclusive dishes including the most searched for Slimming World recipe – Chinese Style Chicken Curry.
The new range from the Iceland UK's leader in frozen food includes home favourites such as the Slimming World Smokey Bean & Sausage Casserole (550g, £3.50), which is based on the Slimming World favourite 'cowboy hotpot' recipe. And shoppers who like a more traditional taste can opt for the Slimming World Cottage Pie (500g, £3.00), a brand new recipe featuring a richer meat filling topped with seasoned parsley mash, which we think sounds yummy.
But that's not all, there's another 6 to chose from. Iceland's customers can also liven up their weekday menu with the new recipe Slimming World Braised Steak & Root Vegetable Mash (550g, £3.50), which is a mix of tender beef in a rich thicker gravy topped with chunkier veggie mash.
Or if you're looking for inspiration for Meat Free Monday, pair the famous Slimming World Chips (1kg, £2.25) (one of the Slimming World 'Free Foods') with the Cod & Minted Pea Fishcakes (280g, £2.50). Also great for a Friday night at-home chippy experience.
Iceland has also launched Slimming World Onion Gravy (350g, £1.50) with a new recipe, now suitable for vegetarians.
READ MORE: Slimming World recipes
And on 2nd October, Iceland will also add three more dishes to the range. The Slimming World Pilau Rice (400g, £1.75), which can be used with a Slimming World curry or as a fuss-free alternative to any dish. The Slimming World Lentil Soup (500g, £1.50), great for those busy lunchtimes and suppers on a chilly evening. And the Slimming World Fish Pie (500g, £3.50), the ultimate comfort food in autumn.
Not only does this new range provide shoppers with an easy alternative that works with the Slimming World diet plan, but research conducted by Sheffield Hallam University suggested that switching to frozen food can reduce household food bills by as much as £250 a year. Perfect for saving the pennies just in time for Christmas!
Former Assistant Headteacher, Samuel has a BSc in Food from the University of Birmingham and is also Co-Vice Chair of the Guild of Food Writers and a Trustee of 91 Ways CIC. His work has featured in national and international publications including Waitrose Food, Australian Delicious, and the LAD Bible Group. Samuel has also consulted on a number of best-selling food and drink books, and was a nutritional consultant for BBC's Eat Well for Less.