19 retro school dinner foods that take us straight back to that dining hall
We bet you remember more than a few of these...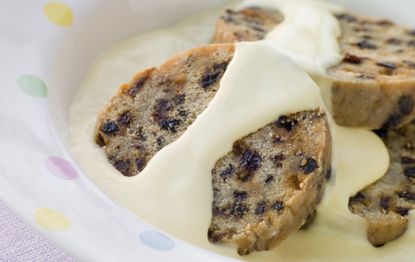 (Image credit: Getty Images/iStockphoto)
School dinners these days just aren't what they used to be.
Don't get us wrong - from a nutritional standpoint, they're definitely better, and we're glad our kids are consuming actual vitamins rather than the mountain of beige we used to feast on at our old lunch tables (guess we've got Jamie Oliver's healthy campaigning to thank for that). But we do miss our retro school dinner foods.
There's something so comforting about the sugary, carb-laden school dinners of yesteryear, that make them unforgettable and oh so covetable.
And now, new research has revealed the retro school dinner dishes that are among the most nostalgic foods for Brits. According to the nationwide study, commissioned by Vue cinemas, rice pudding, fish fingers and arctic roll are all among the most nostalgic retro school dinner foods that trigger childhood memories for us Brits.
So we've picked out some of our favourite retro school dinner foods from the list of nostalgic eats to reminisce about.
These will take you straight back to that noisy dining hall.
19 retro school dinner foods
Turkey dinosaurs
Eight per cent of study participants classed turkey dinosaurs as one of the nation's top 40 nostalgic foods and we are so with them.
But don't be too disappointed with the lack of pre-historic themed oven foods in your life, because the humble turkey dinosaur is moving on with the times.
The turkey geniuses at Bernard Matthews have now released a sister product to the classic turkey dinosaurs - turkey unicorns.
You can get the unicorn turkey nuggets in Iceland for a fun weeknight dinner for the kids. We suggest adding some to your plate as well for a touch of magical nostalgia.
Any type of fried potato
Potato waffles and potato faces both appeared on the list of favourite forgotten foods. We're not going to lie, we may still snack on them now...
French bread pizza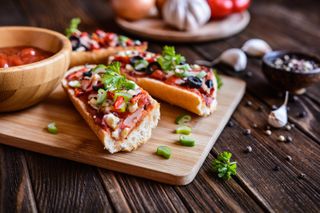 From all types of fried potato, to topped baked bread. These little pizzas were still coveted by 10 per cent of Brits who took part in the study. Long live carbs.
Beans on toast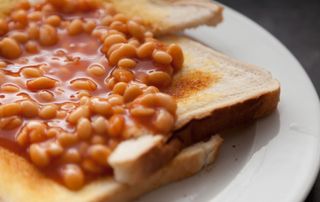 The quickest yet somehow one of the most satisfying of lunchtime eats. And 24 per cent agree.
Spaghetti hoops
Speaking of tomato-sauce based goodies that you can throw on a slice of toast, these were a weekday favourite and, according to 16 per cent of study participants, still are.
Alphabetti spaghetti
And of course we (and 15 per cent of people in the study) can't forget our favourite edible little letters.
Macaroni cheese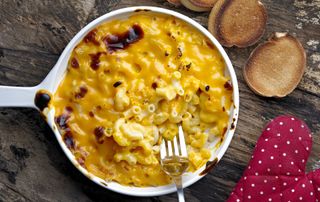 Who needs a fancy Italian restaurant? These are all of our (and 11 per cent of study participants) favourite kinds of pastas.
However, it was in the dessert dishes that school dinners really began to shine...
According to the study, 26 per cent of Brits are nostalgic for the days when we had custard on every lunch meal. And when it was pink custard that was always a bonus.
A vast array of sugar-laden puddings - rice pudding...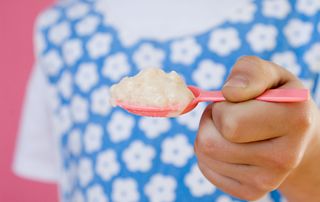 Gloopy and stodgy, but it came in top for retro school dinner foods that Brits are nostalgic for.
...Trifle...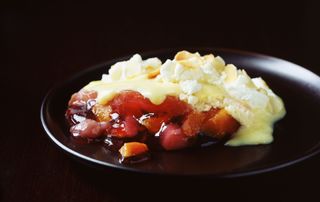 This classic British concoction of sponge, jam, custard and fruit was always a joy to feast on - and 25 per cent of study participants are in agreement.
...Bread and butter pudding...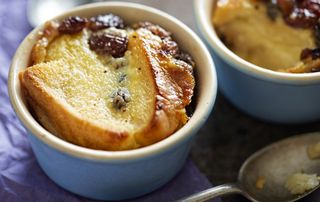 20 per cent of study participants missed this traditional pudding - we'd take a bowl in this artic weather.
...Chocolate mousse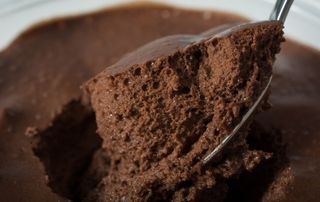 There was nothing better than a spoon or two of chocolate mousse for a quick lunchtime sugar hit and 12 per cent of Brits are clearly missing it because it made the list.
Not to mention all of the cakes - Battenburg...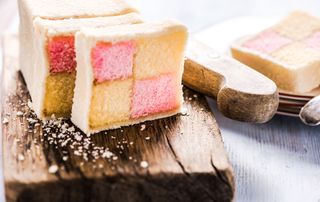 Sugar-packed and a cute pattern - thanks to 19 per cent of participants it's obviously on the list.
Jam roly poly...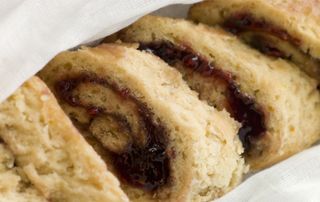 Jam and sponge what's not to like? 23 per cent of participants agree.
...Spotted dick...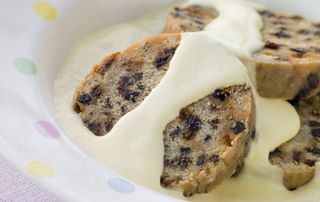 This is a love it or hate it kind of pud. But 17 per cent of the study sample clearly love it.
And then there were always the cold desserts...
Viennetta
This ice cream classic always seemed like a luxury, and luckily for the 22 per cent of study participants who are fans, it's still around.
Try Asda's chocolate orange flavour for a real treat.
Choc ices
Coming in just behind the Viennetta are these sweet handheld ice creams.
On those sunny days when you'd been running around outside, nothing quite hit the spot like a choc ice.
Artic roll
This cake-ice cream hybrid always caused a frenzy - and as number five on the list of Britain's top 40 nostalgic foods it seems it still does.
And here's one that didn't quite make the list, but is definitely one our favourite retro school dinner foods...
Turkey twizzlers
The turkey twizzler was the king of retro school dinner foods.
Unfortunately for our tastebuds they're now a thing of the past, following Jamie Oliver's campaigning for healthier school dinners.
But this mum who petitioned to bring turkey twizzlers back just proves that it's one of the nation's favourite retro school dinner foods.
Whether it made the list or not.
Anyone who knows a school who still makes any of these, point us in their direction, STAT.
Parenting advice, hot topics, best buys and family finance tips delivered straight to your inbox.
Trusted, informative, and empathetic – GoodTo is the ultimate online destination for mums. Established in 2007, our 15-year-strong archive of content includes more than 18,000 articles, 1,500 how-to videos, and 7,000 recipes.