Jamie Oliver's 5 Ingredients - Quick & Easy Food: Everything you need to know about Jamie's new show!
And you can pre-order the book today!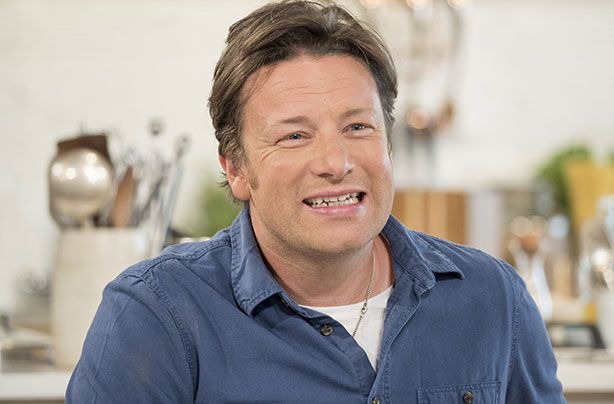 Jamie Oliver has announced a new TV show and book, Jamie's 5 Ingredients - Quick & Easy Food, which will see the chef focusing on simple, delicious dishes for the new eight-part series on Channel 4.
The series, which begins on Monday 21st August, will coincide with Jamie's new book, of the same name, and will see him strip back his famously detailed recipes to just a few core flavours or ingredients.
Now a dab hand at presenting, cooking and being in front of the camera, Jamie started his TV career back in 1999 with his inaugural show, The Naked Chef.
A few years on, he's been using social media to reveal snippets of his latest exciting TV project. In a sneak peek for his Instagram followers earlier this year, Jamie shared a look behind the scenes of both his new book and the new TV series, telling them he was 'so excited' with the progress so far.
The short video saw him introduce the ethos behind his new book, Jamie's 5 Ingredients - Quick & Easy Food. In it he said: 'Welcome to the wonderful world of amazingly simple food. The simplest, simplest most delicious food ever,' before going on to explain that the layout for this book will feature images of each ingredient used in the recipes, laid out on a page for quick reference, adding that all the styling has been kept 'very consistent' for a clean, bright look.
He continued his intro by saying the book is 'about simple cooking' and 'big flavours' combined, while he also let us in on some of the chapters that would appear.
'We've got some amazing chapters. So we've literally gone from, pork, lamb, beef, pasta, salad noodles, rice dishes [and] egg chapters,' Jamie said.
In an previous Instagram post the celebrity chef and dad of five revealed that he had had a 'tough day' shooting the first scenes of the new Channel 4 programme Jamie's 5 Ingredients - Quick & Easy Food. Along with a picture of him sitting at a kitchen table looking happy he wrote, 'day one of the new TV show finished!! Always a tough day as you just wanna make it so good and everything is new but I'm very blessed with a really fantastic crew and this new show feels really, really good. Great food, super accessible so, so simple and packed with tips and little tricks.'
What kind of recipes will Jamie be cooking for 5 Ingredients - Quick & Easy Food?
We can't say for sure but if his book description is anything to go by, we think there could be some seriously tasty dishes coming our way in terms of kitchen-inspiration.
The bio reads, 'we're talking quality over quantity, a little diligence on the cooking front, and in return massive flavour.'
There's also a little glimpse into the kinds of recipes he will be coming up with, as he tells readers, to 'think Roast tikka chicken - a whole bird rubbed with curry paste and roasted over golden potatoes and tender cauliflower, finished with fresh coriander. Or, Crazy simple fish pie - flaky smoked haddock, spring onions, spinach and melty Cheddar, all topped off with crisp, golden filo, and ready to tuck into in less than 30 minutes.'
When is Jamie's 5 Ingredients - Quick & Easy Food on TV?
Jamie has announced on his Instagram account that both the book will be out on August 24th, whilst the TV show airs on August 21st.
Where can I buy Jamie's 5 Ingredients - Quick & Easy Food book?
Jamie Oliver's new book 5 Ingredients - Quick & Easy Food is already available to pre-order on Amazon. In the current description it says the offering will include more than 130 recipes, which will all have a 'visual ingredient guide' and a 'short, easy-to-follow method'. A hard back copy will cost £26 and a kindle edition £9.99.
Pre-order Jamie Oliver's 5 Ingredients - Quick & Easy Food on Amazon now (opens in new tab)
We can't wait to see all the delicious things Jamie has in store for us, but for now we'll just have to be patient! Do you love his recipes? Let us know in the comments below or chat to us on Facebook.
Rosie is an experienced food and drinks journalist who has spent over a decade writing about restaurants, cookery, and foodie products. Previously Content Editor at Goodto.com and Digital Food Editor on Woman&Home, Rosie is well used to covering everything from food news through to taste tests. Now, as well as heading up the team at SquareMeal - the UK's leading guide to restaurants and bars - she also runs a wedding floristry business in Scotland called Lavender and Rose.