Jamie's Quick and Easy Christmas: everything you need to know
Pukka!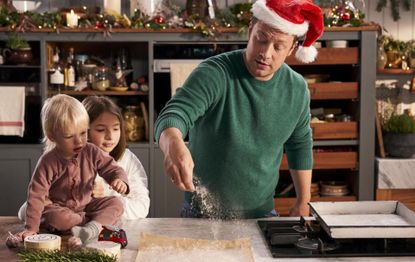 (Image credit: BBC)
GoodTo newsletter
Sign up to the GoodTo Newsletter. You can unsubscribe at any time. For more information about how to do this, and how we hold your data, please see our privacy policy
Thank you for signing up to . You will receive a verification email shortly.
There was a problem. Please refresh the page and try again.
Jamie's Quick and Easy Christmas is Jamie Oliver's latest Christmas special and we can't wait to watch...
And in this one-hour episode, the dad-of-five shows us how to create the ultimate Christmas dinner spread with the minimum of fuss.
If you loved Jamie's 15-Minute Meals, then you're likely to fall in love with this one-off Christmas cooking segment.
Jamie's Quick and Easy Christmas: what can you expect?
We all know that making a show-stopping Christmas meal takes time and effort. But Jamie's here to show viewers those essential tips and tricks that will make the most of our time in the kitchen.
And the best part is you'll only need five ingredients to recreate these delectable dishes proving that less really is more.
Explaining the concept of the show in a nutshell Jamie says: 'Quick & Easy Christmas is about doing an awesome Christmas with five-ingredient recipes. Empowering people to have more confidence, more free time and get a bit more organised.'
Jamie's Quick and Easy Christmas: what recipes will feature?
Jamie has already showed us that five-ingredients really can produce a taste sensation with recipes such as his five-ingredient Harissa traybake (opens in new tab) and five-ingredient chocolate orange shortbread (opens in new tab).
This delicious Harissa Chicken Traybake was one Jamie's five ingredient recipes, so we're excited to see what his suggestions are for Christmas...
Now he applies this to some of our festive food favourites with highlights from the show, including top tips for the perfect Christmas turkey (opens in new tab). There's also a standout recipe for homemade stuffing (opens in new tab) that comes shaped like a crown - fancy! Jamie has revealed that the latter is his favourite recipe from the show.
And he has also whet our appetites with the news that a dessert 'that's just an incredible celebration of chocolate' will feature on the show.
The chef's youngest child - two-and-half-year-old son River - will also be joining him on screen in one part as the pair work together to make home-made dough balls with baked Camembert (opens in new tab).
He said in an interview with Channel 4: 'We shot it [the show] at home, the kids rocked up and the newest member of the Oliver family - River, who's two-and-a-half - gets involved.
'He's decided I'm great, which is lovely and I'll take it while it lasts! So he does one recipe with me, then Jools tries to take him away again but he doesn't want to go and kicks off, so he ends up staying.'
Jamie's Quick and Easy Christmas: when does Jamie's new show air?
Jamie's Quick and Easy Christmas airs on December 19th at 8pm on Channel 4. It will also be repeated at 1:55pm on December 22nd.
Will you be settling down on the sofa to watch Jamie's Quick and Easy Christmas?Head over to our Facebook page and let us know!
Miriam Habtesellasie is a freelance lifestyle writer who has contributed content to GoodTo, Woman&Home, Women and Idealhome.co.uk. Miriam is based in London and is a fan of everything interiors, she admits to being spoilt for choice living in the capital. From stunning architecture right the way through to eye-catching department store window displays, she believes there's always an angle to be found that can translate to our abodes.