Lidl has launched a Champagne flavoured ice cream
Your favourite fizz just got frozen!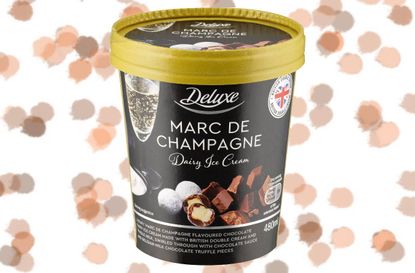 Lidl has launched a Marc de Champagne flavoured ice cream and it's only £2.49 a tub – but you need to be quick
Calling all Champagne enthusiasts! Lidl has launched its very own Marc de Champagne flavoured ice cream and it's got chunks of Belgian milk chocolate truffles in too.
Yes, in stores in time for Valentine's Day, (opens in new tab) Lidl has launched its fizz flavoured frozen treat at the unbelievably good price point of £2.49 for a 480ml tub!
The Champagne ice cream also has a rich chocolate sauce swirled throughout and if that doesn't sound like heaven in a tub we don't know what does?
READ MORE: Cadbury and Oreo team up to create dreamy chocolate coated ice cream sandwiches (opens in new tab)
The new ice cream is ideal for a simple but special, Valentine's dessert or any date night for that matter. Why not pencil in a night with your loved one or invite your friends over for a well-needed catch up and evening of indulgence.
If Champagne isn't really your thing there is another exciting flavour that cake lovers might be more interested in…
The second Valentine's-themed ice cream is an indulgent Red Velvet flavour. It has a gorgeous marbled effect as the red velvet sauce is swirled generously through the vanilla ice cream making it look as good as it tastes!
READ MORE: Try our delicious red velvet cupcakes recipes (opens in new tab)
As always, the two new ice cream flavours are only available while stocks last so you had better be quick!
People on social media have been quick to post about the new flavours and several have tagged their loved ones with requests.
One person said: "the red velvet one looks lush!!! 💙", while another said: "Champagne one for me if you go to Lidl please".
Which of the two new flavours do you want to try first? What is your favourite ice cream flavour? Head over to our Facebook page to join the conversation!
Jessica currently works as a Senior Food Writer at Future. She writes food and drink-related news stories and features, curates product pages, tests, and reviews equipment, and also develops recipes that she styles on food shoots. An enthusiastic, self-taught cook Jess adores eating out and sharing great food and drink with friends and family. She has completed the Level 1 Associate course at the Academy of Cheese and is continually building on her knowledge of beers, wines, and spirits.