Lidl's new gin and Prosecco egg has got us counting down the days until Easter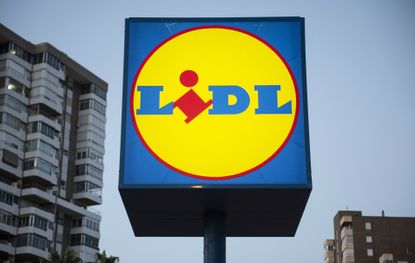 The Ginsecco egg provides customers with a heavenly combination of gin, Prosecco and chocolate this Easter.
With Easter just around the corner, we've seen supermarkets release a whole host of different Easter eggs to get excited about this year.
From Aldi's 'Ruby chocolate' Easter egg (opens in new tab), to Sainsbury's Easter egg which is made entirely out of cheese (opens in new tab), there's no doubt we'll see some truly weird and wonderful treats on our tables this Easter.
Just when we thought we already had enough different eggs to choose from, however, Lidl has come out with an incredible announcement - it has just launched a 'Ginsecco' Easter egg, which combines chocolate, gin and Prosecco all in one beautiful creation.
Securing the theory that all good things come in threes, this beautiful egg is now available in-store for the fine price of £12.99 - a complete steal when you consider all of its delectable ingredients.
Made from Belgian milk chocolate, the Easter egg not only tastes amazing but it's also a total work of art, with its sculpture-esque structure and hollowed out centre with a shimmery gold glaze delicately splashed over it.
Inside the hollowed out surface are three golden Ginsecco eggs where the Prosecco, gin and chocolate combine, (AKA where the magic happens), as they form a creamy and gorgeously boozy ganache.
READ MORE: The best cheap Easter eggs to buy for £5 and under (opens in new tab)
The budget supermarket had the interests of our nation at the heart of its decision-making process when creating this stunning Easter egg, as gin and Prosecco are undoubtedly the UK's two favourite party drinks of choice.
If gin and Prosecco aren't your thing, then don't panic - Reese's has also announced that it is launching an Easter egg that is filled entirely with peanut butter. (opens in new tab)
Modelled on the infamous Reese's Peanut Butter Cup, the 170g chocolate egg has a 0.25 inch think chocolate milk shell packed with smooth and melty peanut butter, so basically fulfils every peanut butter lover's deepest fantasies.
Is it just us, or is 2019 the best year yet for Easter eggs?
Have you tried any of these eggs and do you have a favourite? Head over to our Facebook page and let us know!
Freelance Lifestyle Writer
Niamh McCollum is a freelance lifestyle writer who has written for Future titles GoodTo and Marie Claire UK, plus the Irish Independent. The Dublin-based journalist specialises in stories
affecting families - from health updates, to the freshest parenting debates and celebrity announcements.