Marks & Spencer faces backlash from top chef over Indian-themed vegan wrap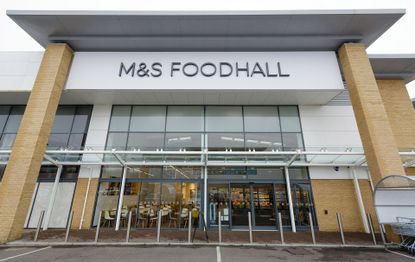 (Image credit: Patch Dolan)
Marks & Spencer has come under fire over their new Indian-themed vegan wrap.
As part of their new vegan range named Plant Kitchen (which includes a vegan-friendly coleslaw (opens in new tab) that shoppers have gone crazy for), the high-street food store introduced a Sweet Potato Biryani Wrap earlier this month.
However, critics have taken to Twitter to accuse the high-end retailer, who recently disappointed fans with a controversial decision (opens in new tab), of cultural appropriation after a top Indian chef and Indian restaurant both pointed out that the meal is not a biryani at all.
Marks & Spencer's description of the wrap in question reads: 'Fragrant sweet potato, basmati rice and buckwheat with a fresh kachumber salad and mango chutney, in a wholemeal roti wrap'.
But Twitter users went on to point out that traditional Indian biryani is actually rice dish, rather than a flavour that can be used in another type of dish.
'Thanks but I like my Biryani with rice in a bowl not a wrap,' wrote well-known chef Maunika Gowardhan. 'Seriously M&S!?'
'In India firstly there is no such thing as a veg Biryani. Most places will serve mutton or chicken or even fish.'
'It's wrong on many levels when people will assume this is what a Biryani looks like!'
Other Twitter users followed her sentiment, writing: 'Maybe they're not sure what biriyani is, or they've made a new meaning for it' and 'Firstly it's not biryani if it comes in a wrap and secondly it has sweet potatoes in it! Who puts sweet potatoes in biryani!?!'
While another angry internet user wrote: 'Omg what is wrong with M&S!!'
One perplexed consumer tweeted: '@marksandspencer tbh I'm just confused... What part of this is biryani? Biryani is a rice based dish, traditionally with meat that most certainly doesn't have sweet potato, so it's not right on any level???'
While one person accused the supermarket of cultural appropriation for the their use of the product description.
Top London restaurant Darjeeling Express also joined in the discussion, writing: 'This is so wrong at SO many levels- who are you paying to design your wraps @marksandspencer? You seriously need to rethink your "exotic" wrap selection. That is not Biryani-you do not appropriate names from a cuisine without even bothering to do any research on that dish.'
'M&S is famous for its food innovation,' a Marks & Spencer spokeswoman told the Metro, 'Our developers use a fusion of different flavours and ingredients to create an exciting range of products to appeal to customers' tastes.'