Marks & Spencer slammed by customers after changing recipe for Percy Pigs to make them vegetarian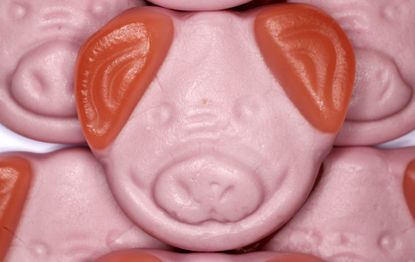 (Image credit: REX/Shutterstock)
Marks & Spencer has been slammed by customers after changing the recipe to their iconic Percy Pigs.
Fans of the classic Marks & Spencer sweet have taken to social media to express their outrage at the change, claiming that the new product tastes 'vile'.
The original recipe for Percy Pigs contained gelatin, which is made from collagen that comes from different animals.
However the store did have a vegetarian version of the sweet available as well, to give everybody the chance to enjoy the popular sweet.
But now even the original version of the sweet has been made suitable for vegetarians, and it's got fans seething.
'Percy pig have changed their recipe to suit vegetarians. They now taste like arse,' wrote one disappointed fan. 'My life is ruined. The most sacred confectionary item on the planet is over. I'm in tears.'
'Have @marksandspencer changed Percy pig recipe? Ones I've got today taste grimmmm,' agreed another.
'@marksandspencer have you changed your Percy pig recipe?' questioned another Twitter user. 'They taste very different and very disappointed. Have you taken out the gelatine? Where have the old ones gone?'
'@marksandspencer how can I register my feedback on the new Percy Pig recipe?' raged another customer. 'I have enjoyed Percy Pigs for years but unfortunately will not be purchasing again - the flavour is frankly vile.'
Marks & Spencer responded to the complaints, claiming that they had taken the move both to make the sweet treat more inclusive and to help the environment.
'We changed the recipe for Percy earlier this year and yes, we removed the gelatine,' a spokesperson for the retailer wrote on Twitter. 'Taking gelatine out of Percy was the right thing to do for a number of reasons.
Read more: Poundland has a bargain version of M&S Percy Pigs - but there's a twist
'Firstly, our customers have been asking us to do this for a while. It means people of different ethnicities & diets can now enjoy our favourite pig.
'Also, removing gelatine from Percy means he is better for the planet! Over the total product lifecycle, it uses 20% less energy & gives an 18% reduction in carbon footprint!'
And other customers thought that the change was a positive move, saying that it is better to cut out any meaty ingredients in all sweets.
'Well done @marksandspencer for making Percy Pig murder & cruelty free,' wrote one fan, 'there's no reason for any kids' sweets to have dead animals in them... it's not about being P.C. it's about not being twats to other living creatures'.
'Well done on making #percypig universal,' agreed another, '#Govegan'.
Have you tried the new Percy Pig? Head over to our Facebook to page to let us know what you think!
Aleesha Badkar is a lifestyle writer who specialises in health, beauty - and the royals. After completing her MA in Magazine Journalism at the City, the University of London in 2017, she interned at Women's Health, Stylist, and Harper's Bazaar, creating features and news pieces on health, beauty, and fitness, wellbeing, and food. She loves to practice what she preaches in her everyday life with copious amounts of herbal tea, Pilates, and hyaluronic acid.