The one piece of advice Mary Berry gave to Prue Leith for her Great British Bake Off judging role
And Paul told her the same...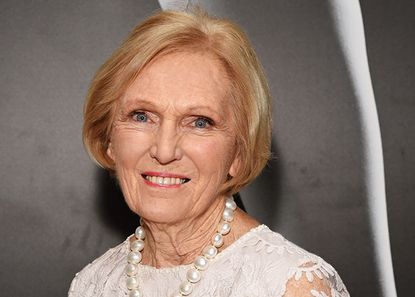 Despite her decision to bow out of judging The Great British Bake Off (opens in new tab) this year, after the programme's move to Channel 4, it would seem that Mary Berry holds no hard feelings.
In a show of solidarity Mary imparted some of her judging wisdom to her replacement, cookery writer Prue Leith, before she took up the reigns. In a recent question and answer session at Channel 4, the Bake Off 2017 (opens in new tab) judge revealed the one piece of advice her predecessor gave her for life on Britain's favourite baking show - and it's something she's actually been following.
'She said to watch out for Paul Hollywood,' Prue revealed during the discussion.
Emphasising her point she added: 'She told me funnily enough what Paul told me, don't just follow Paul, don't stand behind Paul and agree with him. Just be yourself and go for it.'
However, despite her admittance that she's been following Mary's advice and not letting Paul take control too much, Prue insisted that she's keen not to be seen to be a straight swap for Mary. 'Apart from our age I'm nothing like Mary,' she insisted.
So, as a Mary replacement, what is Prue's judging style like? We've had a sneaky preview and throughout the first episode of The Great British Bake Off the food expert comes across as firm but fair, handing out compliments and criticism in equal measure.
Critiquing her own approach, Prue said: 'I know what I want. I'm famously blunt.'
Despite her no nonsense approach to the feedback she gives the bakers she says she enjoyed the process so much that she thinks it's been her favourite ever programme to work on. 'I have never, ever enjoyed myself as much as on the show. It's fun to go to work. You wake up thinking goodie, it's a Bake Off day,' she exclaimed.
And the thing, she says, that she likes the most about Bake Off is that it isn't the same as a lot of the other reality programmes, explaining that as a team they 'want to give the bakers the best possible chance to shine', and where other shows are 'half about humiliating somebody,' with Bake Off, 'there's no hint of that'.