McDonald's launches its first ever vegetarian Happy Meal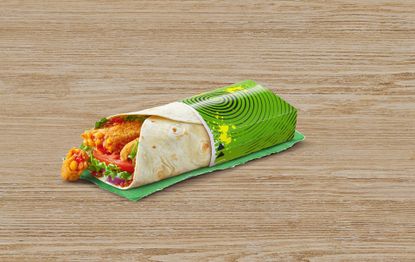 (Image credit: McDonald's)
These days it's becoming more and more common to lead a meat-free diet.
According to late 2018 report by leading supermarket Waitrose, one in eight Britons are now vegetarian or vegan (opens in new tab) and a third of British people have stopped or reduced their meat intake.
And while food retailers are gradually becoming more attuned to the nation's meat-free ways, it can still be tricky to stick to the vegetarian (opens in new tab) lifestyle, especially when it comes to being on the go.
Most fast food joints offer only one or two veggie options, if any, and it becomes even more limited when it comes to kids' meals.
Greggs launches vegan sausage roll (opens in new tab)
But now childhood favourite McDonald's is adding a new veggie meal to their menu and it's specifically for little ones.
The high-street icon has introduced a Veggie Happy Meal so that your little one can join in the fun no matter what their diet is.
The classic golden arches emblazoned box comes complete with a Veggie Wrap that is filled with a red pesto goujon, tomato ketchup and shredded lettuce.
And vegetarian parents can have a treat too.
The Spicy Veggie Wrap is a bigger version of the Happy Meal wrap but with the addition of tomato and red onion and spicy tomato relish instead of tomato ketchup.
'Our commitment is to offer great food, great choice and a great experience to our customers and we are constantly asking them how we can evolve and improve,' said Duncan Cruttenden, Menu Director at McDonald's UK&I.
'We are really thrilled to be able to give our customers this new choice with the addition of the Spicy Vegetarian Wrap and our first Vegetarian Happy Meal.'
How to go vegan: what do vegans eat and what are the benifits? (opens in new tab)
To create their new menu items, the popular eatery worked in conjunction with the Britmums Network, who invited parents and children to select the final flavour, and the Vegetarian Society, who has accredited the two dishes.
'There's a growing demand for veggie food everywhere and it's fantastic to see McDonald's meeting the needs of their customers,' said Lynne Elliot, the Vegetarian Society's Chief Executive.
'It is especially important for young veggies to be able to choose something to eat when they are out with their friends.
'With the new Spicy Veggie Wrap and Veggie Happy Meal carrying our trademark diners can trust their meal is one hundred percent vegetarian.'
Aleesha Badkar is a lifestyle writer who specialises in health, beauty - and the royals. After completing her MA in Magazine Journalism at the City, the University of London in 2017, she interned at Women's Health, Stylist, and Harper's Bazaar, creating features and news pieces on health, beauty, and fitness, wellbeing, and food. She loves to practice what she preaches in her everyday life with copious amounts of herbal tea, Pilates, and hyaluronic acid.